starting at
€55,000/week
Greece
70 ft power catamaran
Accommodates up to 8
4 Queen ensuite cabins
Great for a large group
ALTEYA is a 70 ft Sunreef power catamaran with luxury accommodations for 8 guests.
The vast main deck saloon of the ALTEYA Sunreef Power 70 blends seamlessly with the aft cockpit, creating a large, semi-open dining and sunning area. The skylight, panoramic glazing, and wide sliding door let plenty of sunshine into the fully-customizable interior. The generous volumes within the yacht's hulls offer infinite options for a bespoke layout. Luxurious accommodations for 8 guests are in 4 queen ensuite cabins. The crew quarters and galley can be located aft and accessed exclusively from the cockpit for more privacy on board.
ALTEYA 70 Sunreef Power, boasts a large bow terrace with freestanding furniture and a lounge protected from sun and wind. The aft cockpit provides an alfresco dining space close to the water as well as a great spot to enjoy water sports with easy access to toys and PWCs.
The yacht's flybridge offers an unrivaled level of comfort with more than enough space for a bar, a dining area, and oversized sun pads. Thanks to her innovative aft garage and hydraulic platform, Alteya can easily store and launch the tender anytime.
*For Rates, see the PRICING Tab below – Holiday weeks may differ, please inquire!
Your Crew
CAPTAIN EVANGELOS
As an islander in origins and a competitive swimmer since his early childhood, he has had a great passion for the sea from his very early years. Evangelos' passion evolved as he studied the sea in the UK as an oceanographer and marine mechanical engineer. He then switched to working in the sea in 1998 by receiving his sailing diploma. Since then, he has worked as a sailor and skipper for many different charter and private yachts.
He is the holder of an approved MCA master 200GT license for sailing and motor yachts. He is an energetic individual, very responsible, adaptable, and hard-working, and knows how to provide his guests with an unforgettable sailing holiday! He loves anything that has to do with the sea such as spear diving, surfing, and swimming. He has a surf instructor and lifeguard license and speaks English and Greek fluently.
CHEF SAVVAS
Savvas was born in 1989 and he is one of Greece's most promising chefs. He received his culinary training at the professional school OAED. He also has a degree in Fast Pace cooking and has attended seminars in Japanese and molecular cuisine. Chef Savvas began his internship at the prestigious King George Palace Hotel in 2005 and worked his way up through the ranks. In 2018, he finished fourth in the Master Chef competition in Greece.
He was the Chef for many Michelin-star restaurants, like Divani Caravel Juju Bar Restaurant, where he held the FNL Star award. He has collaborated with some of the top chefs. His love for the sea led him to start his cooperation with yachts. His goal is to bring Michelin guide from the restaurants to the yachts. Savvas enjoys creating Fusion cuisine using Greek local elements to create delectable dishes.
* Savvas won 1st place in the Platinum category at MEDYS 2022
STEWARDESS MARIA
Maria was born in 1998 in Bulgaria. For a few years already she lives in Greece and when she is not on board Above & Beyond, she is based at the moment in the beautiful Cycladic Island of Milos! She loves the sea and anything that has so too with it. She completed her sailing license and decided two years ago to start working in the yachting industry after working in hotels as a receptionist, as accountant, and waitress. She has extensive customer service experience, is very kind and professional in her work, and is always happy to assist her guests with a smile! She is a great team player, knows her way around a yacht, is hardworking, and is determined to learn and take her job to the next level! She speaks Bulgarian, Greek, English, some Turkish, and basic French.
DECKHAND VASILEIOS
Vasileios was born in Athens in 1993 and currently resides in Piraeus. In 2000, at the age of seven, he began sailing in the Optimist class, where he achieved many national and international victories. From 2006 to 2008, he competed in the 420 class, and in 2008-2009 he moved up to the 470 Olympic class. He has also been a member of the Greek National Team since 2005 and the Pre-Olympic team for the 2020 Olympic Games in Tokyo. Current National Champion in Class 470 Olympic.
He started working as a deckhand on yachts in 2018 and was aboard Sea Energy V (Fountaine Pajot Saba 50) and Lusea (motorboat – Princess 78). Vassilis is ideal to support the crew in running the yacht based on her prior accomplishments and experience. Additionally, he strives to provide guests with a memorable experience and is always willing to serve them.
Languages: French & English
DECKHAND DAMIEN
Damien is from France. He is multilingual and enthusiastic about sailing and he places a strong emphasis on the guests' experience. Since 2003, he has been employed in the yachting sector, and he has expertise in sailing in both the Mediterranean and the Caribbean Sea. In addition to this, he holds an RYA/MCA Yachtmaster Diploma, and he has also worked as a Boat Maintenance Technician, which clearly shows his proficiency in the boat's systems and equipment along with his technical and electrical knowledge.
Languages: French, English, Spanish, Italian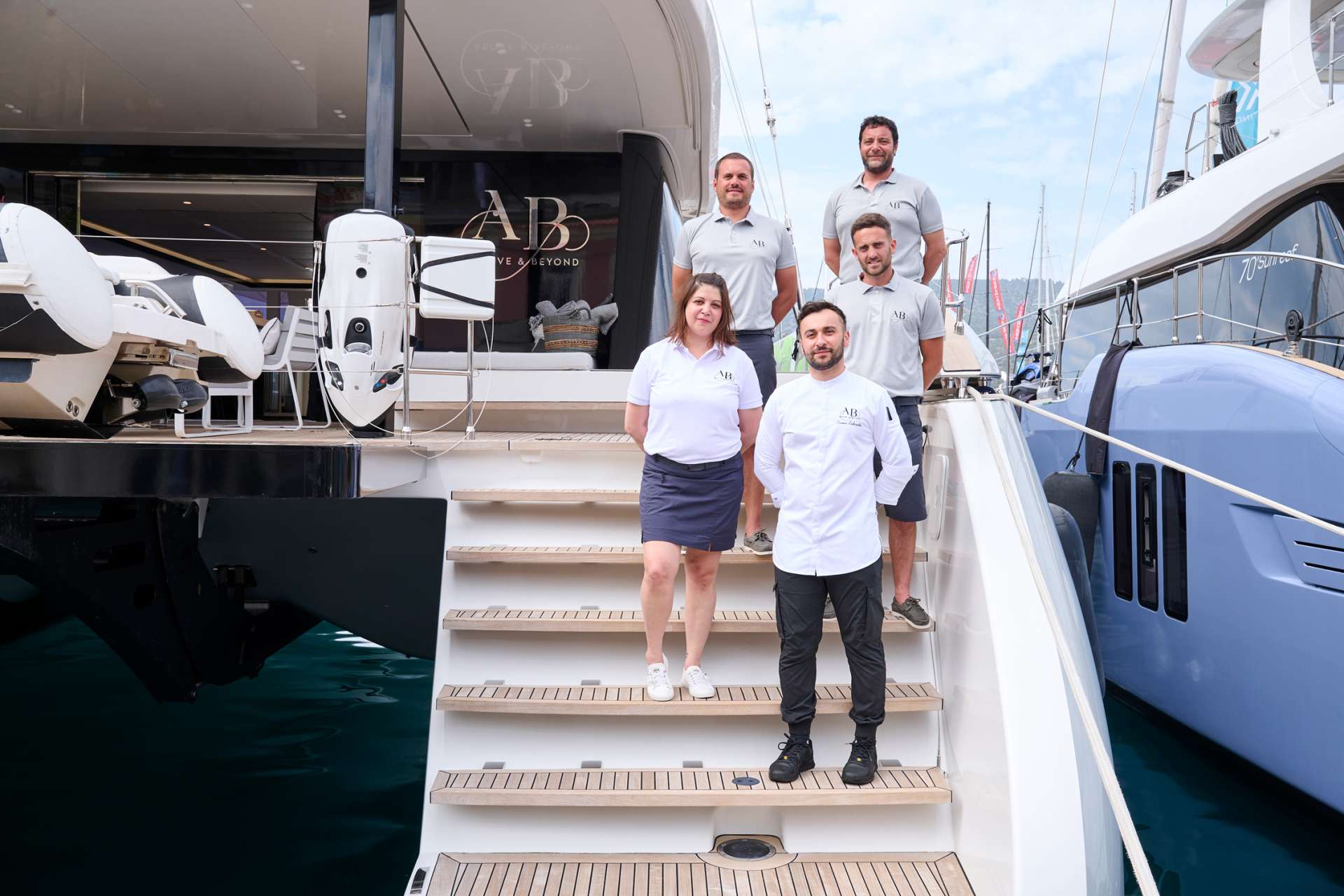 Cuisine
BREAKFAST

Cereal Station
Juice Station
Chilled Fresh juice
Coffee Station -selection of Teas
Fresh Seasonal Fruits with Yogurt &  Honey
Toast Station
Waffles and assorted Condiments-Croissant-Cake
Scrambled Eggs and Boiled eggs
Link sausage
Choice of Smoked bacon -Pork sausage.
Cold meat Platter
Cheese Platter
Pancakes

LUNCH

Day 1:

Salad
Green Salad| Strawberries| Dried Apricots| Hard Cheese| Balsamic & Olive
Appetizer
Eggplant| Tomato| Mozzarella| Basil I Chickpeas I Garlic Butter | Bruschetta
Main Course
Lamb Souvlaki| Flat Bread | Bulgur | Tzakiki | Oregano | French Fries
Dessert
Elderflower | Greek Yoghurt | Ice Cream | Lavender Crunch I Dried Olives

Day 2:

Salad
Cucumber Dill | Broccoli| Red Onion I Lemon I Olive Oil
Appetizer
Sea Urchin I Truffle | White Pepper | Garlic Butter | Chives |Brioche
Main Course
Meat Ball |Cured Mustard Seeds| Fennel | Red Radish | Sweet Potatoe
Dessert
White Chocolate | Lime Sorbet

Day3:

Salad
Romano Salad Dill| Red Onion | Lemon | Olive Oil
Appetizer
Shrimps| Butter | Capers | White Wine | Garlic| Parsley
Main Course
Fresh Fish I Buckwheat| Green Beans I Red Radish
Dessert
Dark Chocolate Cake with Orange

Day 4:

Salad
Mixed Green Salad | Shrimps| Red Cabbage | Lemon | Olive Oil
Appetizer
Turbot Green Peas| Caviar | Elderflower | Lemon
Main Course
Beef Short Ribs| Demi-Glace| Orzo| Broccolini | Daikon Radish Pickle
Dessert
Milk Chocolate| Mascarpone| Baklava | Coffee

Day 5:

Salad
Roasted Peppers | White Cheese | Spinach | Arugula
Appetizer
Tomato Tartar | Sardines | Burrata
Main Course
Beed Burger | Coleslaw |Pickles | Cheddar | Onion | Royal Fries | Miso Mayo
Dessert
Crème Caramel | Frangelico

Day 6:

Salad
Fresh Zucchini | Carrots | Olives
Appetizer
Ceviche Saffron| Salicorn | Apple
Main Course
Fresh Fish | Beluga Lentils | Black Garlic Mayo | Spring Onion
Dessert
Watermelon | Feta Cheese | Mint

DINNER

Day 1:

Salad
Arugula | Cherry Tomatoes I Anchovies | Black Pepper I Lemon I Sumac
Appetizer
Green Asparagus| Peppers I Lovage | Panko | Thyme
Main Course
Grilled Octopus | Mashed Potatoes | Paprika | Black Sesame | Parsley
Dessert
Elderflower | Greek Yoghurt | Ice Cream | Lavender Crunch I Dried Olives

Day 2:

Salad
Lettuce Mint| Dates | Black Pepper | White Balsamic | Olive Oil
Appetizer
Cheesy Carrot Sponge | Cumin | Lemon Gel
Main Course
Tsiladia | Cod Stew | Tomatoes | Onion | Raisins | Baked Potatoes |Horseradish

Day 3:

Salad
Radicchio | Honey-Mustard| Pumpkin | Lime
Appetizer
White Asparagus| Poached Egg| Bruschetta| Caviar
Main Course
Squid Confit in Duck Fat| Sundried Tomatoes| Artichoke | Olives | Amaranth| Salted Lemon
Dessert
Chestnut| Black Currant| Sour Cream

Day 4:

Salad
Endive Barley| Spring Onion | Peach| Feta
Appetizer
Saganaki Shrimp| Bruschetta| Arugula
Main Course
Dover Sole| Mushrooms| Black Truffle| Celeriac | Beurre Blanc
Dessert
Compressed Melon | Basil | Port Wine Sorbet

Day 5:

Salad
Greek Salad | Smoked Duck Breast
Appetizer
Cauliflower | Harissa | Pancetta | Black Pepper
Main Course
Grilled Bearded Umbrine | Brussel Sprouts | Pistachios | Chimichurri
Dessert
Margarita Semifreddo

Day 6:

Salad
Beetroot | Dilli Parsley | Pecan
Appetizer
Lobster | Tagliatelle | Tomato | Coriander | Kefir |
Main Course
Duck Leg | Polenta | Goat Cheese | Monk's Bread | Xinomauro (Red Wine) Sauce
Dessert
Geranium | Dark Chocolate Cake