starting at
$36,600/week
United States Virgin Islands
57 ft sailing catamaran
Accommodates up to 10
5 Queen ensuite cabins
SCUBA diving onboard
SPECIAL OFFER
10% off charters through July 2023.
Where luxury meets adventure! Introducing BAREFEET RETREAT, the latest Royal 57 catamaran.
Indulge in the crystal clear waters of the Virgin Islands on this ultra-spacious sailing catamaran. BAREFEET RETREAT features a flybridge that has 360˚ocean views. The flybridge sports a fully functioning bar and easy access to several sun pads to soak up the Caribbean sun.
Barefeet retreat accommodates up to 10 guests in 5 luxury queen cabins each with its own ensuite bathrooms. All guest cabins are fully air-conditioned for guests' comfort. BAREFEET RETREAT has a galley-up layout with all the modern amenities needed for the ultimate family and friend vacation. She has full stainless steel side rails making her the preferred boat for kids onboard.
For Rates, see PRICING Tab below – Holiday weeks may differ, please enquire!
Your Crew
CAPTAIN JENN & CHEF/MATE BREE
Jenn learned to love sailing over ten years ago when she taught dinghy and keelboat sailing at California State University, Long Beach. Sailing then took her around the world, running charters from Southeast Asia to the Mediterranean and Caribbean. Jenn has a strong passion for the ocean and fell in love with diving in her favorite place to sail, the Virgin Islands. She took a brief hiatus from being on the water to go below it and became a dive instructor, so she could share her fascination with the sea and all its creatures with her guests. Now back to chartering Jenn prides herself on her extensive knowledge of the Virgin Islands, offering the best views both above and below the waterline.
Abrye (Bree)
Entertaining is her absolute forte, and she finds it such a privilege to nurture & nourish others through food – especially in a place as beautiful as the Caribbean! She has a lifetime of passionate hosting experience, a decade of advertising strategy & client services under her belt, but I found her bliss when she started hosting yacht charters professionally three years ago. Her solution-oriented attitude, strong work ethic & mouthwatering cuisine helped her build a strong reputation for herself within the yacht holiday community. After her first season on the water, she was invited to join her company's leadership team and brought on as a Host Instructor for their training academy, where those adventures took her from New Zealand to Croatia, Greece, BVI, Italy & Sweden.
When she's not feeding families & friends on the sea, she helps curate and executes creative & wellness-based retreats on land. With more free time in 2020, she used the opportunity to level up her interest in food and flavors by pairing them with a greater knowledge of nutrition, Ayurvedic principles & general well-being. Her guests can feel their best by eating fresh, wholesome food with meal plans that are mindfully curated and beautifully prepared.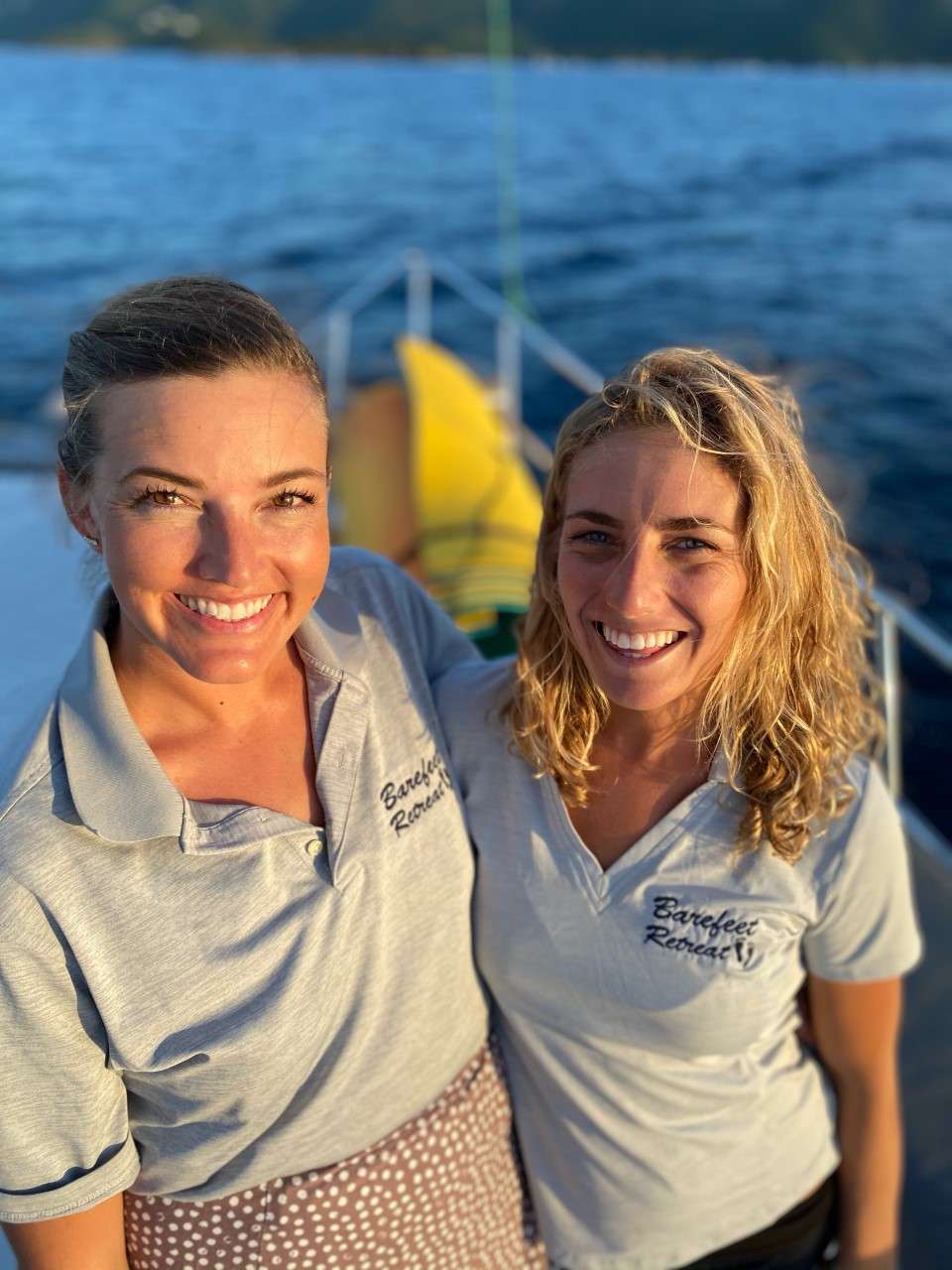 Cuisine
BREAKFAST

Coconut crusted French toast & Bacon, Fruit platter & fresh pastry, Overnight oats topped with fruit
Bagel & lox platter with scrambled eggs, Fruit platter & fresh pastry, Greek yogurt parfait with granola
Zucchini and goat cheese frittata served  with sausage patties, Fruit platter & fresh pastry, Chia seed pudding topped with fruit
Sweet potato, veggie, and chorizo hash topped with fried eggs, Fruit platter & fresh pastry, Smoothie bowls
English breakfast with baked  beans, sausage, bacon, fried eggs & toast, Fruit platter & fresh pastry, Overnight oats with chia & topped with fruit
Zucchini & corn fritters topped with avo and  crumbled feta & bacon, Fruit platter & fresh pastry, Peanut butter protein smoothie bowl

LUNCH

Seared tuna poke bowl with white  rice  and colorful chopped vegetables
Burrata over greens with grilled peaches & garlic toast crusts
BBQ pulled pork sandwiches served with a zesty pineapple slaw, baked beans & corn on the cob
Veggie curry served with basmati rice & meat/potato samosas
Mexican burrito bowls served over quinoa with veggies, pickled onions & sauteed purple cabbage
Steak salad with mixed greens, blue cheese, pears & candied walnuts

APPETIZERS

Greek Salad & dip platter starter – Greek-style chicken gyros, homemade tzatziki, lemon potatoes, a medley of grilled zucchini, eggplant & peppers
Lemon ricotta bread, assorted fruits & coffee service
Assorted bruchetta platter
Asian spring rolls & dipping sauce
Freshly baked banana bread & coffee service
Assorted pizza flatbreads

DINNER

Swordfish skewers over garlic mashed potatoes served with green beans
Risotto topped with creamy gorgonzola sauce & roasted butternut squash
Loaded nachos topped with pulled pork & homemade guacamole
Dijon crusted salmon served over a salad medley with wild rice, arugula & apple
Chicken thigh pad thai with a mix of glass noodles and zucchini noodles
Homemade caesar salad – Veggie loaded Italian sausage lasagna served with garlic bread topped with parmesan crisps
Lemon, white wine, and caper white fish served with homemade mac & cheese & sauteed broccolini

DESSERT

Brownies topped with cream and  chopped hazelnuts
Fresh fruit, cream, and chocolate parfait
Mini apple pie pockets served with fresh cream
Berry topped mini cheesecake