starting at
$27,000/week
British Virgin Islands
50 ft Sailing catamaran
Accommodates up to 8
4 Queen cabins w/ 3 ensuite bathrooms
SCUBA diving onboard
ETHER is a Lagoon 50 offering 4 queen guest cabins with 3 ensuite bathrooms
ETHER offers accommodation for up to 8 guests in 4 queen cabins with ensuites. The interior has fantastic natural lighting and ventilation throughout, plus full air-conditioning.
The main salon is bright and airy with large expansive windows that bring the outside in. dark wood flooring and light wood panelling offer a modern feel with large comfortable      U-shaped sofa and dining table.
The cockpit area can comfortably accommodate 8 guests at the table for dining with a view. There are plenty of options for snoozing or relaxing on the aft deck with a book in the shade. The foredeck has sun pads and sample seating to catch some sunrays while sailing or at anchor. The flybridge has seating for you to enjoy 360-degree views while watching the captain work at the helm.
Whether you are looking for a fun family adventure, a SCUBA diving week, or a Caribbean getaway with friends, ETHER is ready to welcome you on an EPIC sailing trip of a lifetime!
*For Rates, see PRICING Tab below – Holiday weeks may differ, please enquire!
Your Crew
CAPTAIN RICHARD & CHEF/MATE DOMINIQUE
Richard and Dominique Vincent are a dynamic, energetic married couple from Johannesburg, South Africa. They are truly the definition of a team and play to each other's strengths. They are never in competition with each other and if one sees the other needs help, they will quickly step into support.
These amazing qualities translate excellently to the charter environment. Their main focus, based on 5 years of chartering in the Caribbean, is the client's happiness. As natural hosts, they go out of their way to ensure both the satisfaction and happiness of the guests. This attitude coupled with their efficient planning and organizational skills makes for trouble-free, enjoyable charters.
Richard is naturally friendly, and passionate and has excellent social skills. He exudes confidence and he instills a sense of safety in others. He is a natural leader but is equally prepared to roll up his sleeves and do what needs to be done to get the job done. Richard is comfortable in meeting the demands of his position and is always thinking ahead to ensure a stunning charter for his guests.
Dominique is a natural nurturer and loves to feed people with quality, attractive and tasty dishes. After her training at Ashburton, UK, and being a chef on charter boats serving 100's delicious meals, Dominique has discovered that her passion is to cook for others. To this end she has spent the last 2 years experimenting with new dishes, working with different spices and flavors, and presenting mouthwatering meals making the recipients come back for more. A true gift. Her quiet, easy-going nature makes it easy to interact with her and she is a calming influence in any situation.
Together this couple has an A-class work ethic and their professional conduct has made them a favorite in the charter environment, both with guests as well as colleagues.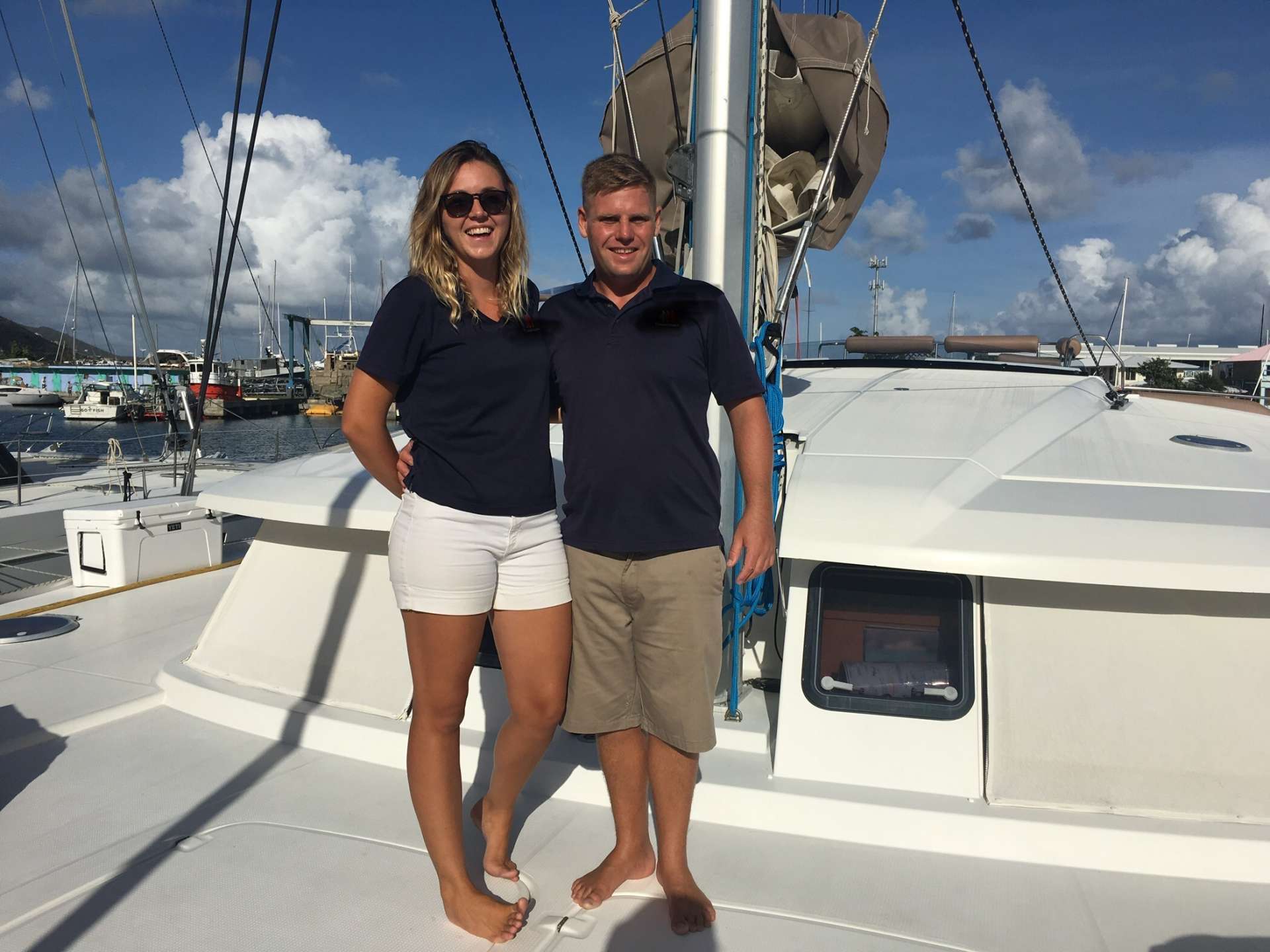 Cuisine
BREAKFAST

Fruit juice, fresh fruit, yogurt, cereal, and granola will be served with breakfast every morning
Caramelized banana pancake stack served with crispy bacon and maple syrup
Baked eggs in a hearty tomato sauce served with breakfast potatoes
Honey oat muffins and freshly baked croissants eggs benedict
Cream cheese and smoked salmon bagels breakfast quiche
Breakfast burrito

LUNCH

Seared tuna steaks and Nicoise salad served with freshly baked bread
Grilled chicken skewers and Mediterranean couscous salad served with freshly made pitas
Blackened fish tacos with cilantro and avocado sauce served with mango salsa
Cheeseburgers in paradise
Pulled pork sliders with balsamic soy sauce served with citrus pineapple slaw
Grilled chicken and pineapple salad served with freshly baked bread
Caribbean beef pasty served with salad

APPETIZERS

Baked feta and olive bruschetta trio of flatbreads: garlic and herb, tomato and basil, fig and prosciutto
Spinach and ricotta cheese ravioli in a white wine sauce blackened shrimp caesar salad
Pork dumplings
Coconut shrimp with thai pineapple chili sauce
Beets and goats cheese salad

DINNER

Grilled Mahi Mahi served with coconut rice and vegetable parcel pork tenderloin served with sweet potato mash a spinach and feta salad
Surf and turf grilled beef fillet and lobster tail  served with potato gratin and roasted Brussel sprouts
Baked salmon served with mint and pea risotto
Seafood pasta in a homemade pasta sauce
Rack of lamb with herb crust served with oven-roasted potatoes and grilled asparagus

DESSERT

Creme Brule
Cheesecake
Milk and cookies
Flambé banana crepes served with cream chocolate brownie and ice cream
Key-lime pie