starting at
$25,000/week
British Virgin Islands
50 ft Sailing catamaran
Accommodates up to 8
4 Queen cabins w/ 3 ensuite bathrooms
SCUBA diving onboard
SPECIAL OFFER
10% OFF charter rates for the months of NOV & DEC 2023.
ETHER is a Lagoon 50 offering 4 queen guest cabins with 3 ensuite bathrooms
ETHER offers accommodation for up to 8 guests in 4 queen cabins with ensuites. The interior has fantastic natural lighting and ventilation throughout, plus full air-conditioning.
The main salon is bright and airy with large expansive windows that bring the outside in. dark wood flooring and light wood panelling offer a modern feel with large comfortable U-shaped sofa and dining table.
The cockpit area can comfortably accommodate 8 guests at the table for dining with a view. There are plenty of options for snoozing or relaxing on the aft deck with a book in the shade. The foredeck has sun pads and ample seating to catch some sunrays while sailing or at anchor. The flybridge has seating for you to enjoy 360-degree views while watching the captain work at the helm.
Whether you are looking for a fun family adventure, a SCUBA diving week, or a Caribbean getaway with friends, ETHER is ready to welcome you on an EPIC sailing trip of a lifetime!
*For Rates, see PRICING Tab below – Holiday weeks may differ, please enquire!
Your Crew
CAPTAIN IVAN & CHEF/MATE MARISIA
Ivan – My love for the ocean started thanks to family holidays spent at the beach. Exploring, snorkeling, and fishing. Straight after high school, I chose to become a scuba diving instructor, which allowed me to travel, explore, and be exposed to different cultures.
Being out on the ocean makes me feel at ease, I like the mystery hidden in it and love the many possibilities to have fun in and on the water. My interests of mine include sailing, engineering, DIY projects, vintage cars, and genuine love and care for animals and plants.
Marisia – Growing up in Cape Town, with big waves and strong winds. Every Sunday morning you would find my family and me on the beach. We'd spend our time body surfing. Seeing the waves as challenges, conquering the fear of the size, reading the waves by moving with them, letting our bodies adapt to the cold waters, and focusing our minds on controlling our breathing. Sundays were my favorite, for the ocean taught me things I didn't learn in school. When challenges come I treat them like a wave. Observe, evaluate, learn, and take it on headstrong.
Our story starts in the heart of South Africa in a small town called Potchefstroom. Marisia was studying hairdressing and Ivan just got back from working at sea on a 130ft motor yacht as Deckhand/Divemaster. We quickly bonded over our love for the ocean and meeting new people. We soon decided to move down west to old Cape Town herself, where Marisia continued studying and Ivan went back to sea on an 86ft M/Y Nordhavn as First Mate/Engineer/Relief Captain in Fort Lauderdale.
Marisia loved doing hair but now it was time for her other love, the ocean. She began studying the laws of the sea and learning everything she could about life onboard, and soon she was ready to join Ivan.
We pride ourselves on serving guests with high standards. We love creating the perfect vacation, sailing only to the best places -from the most famous bars to untouched secluded bays.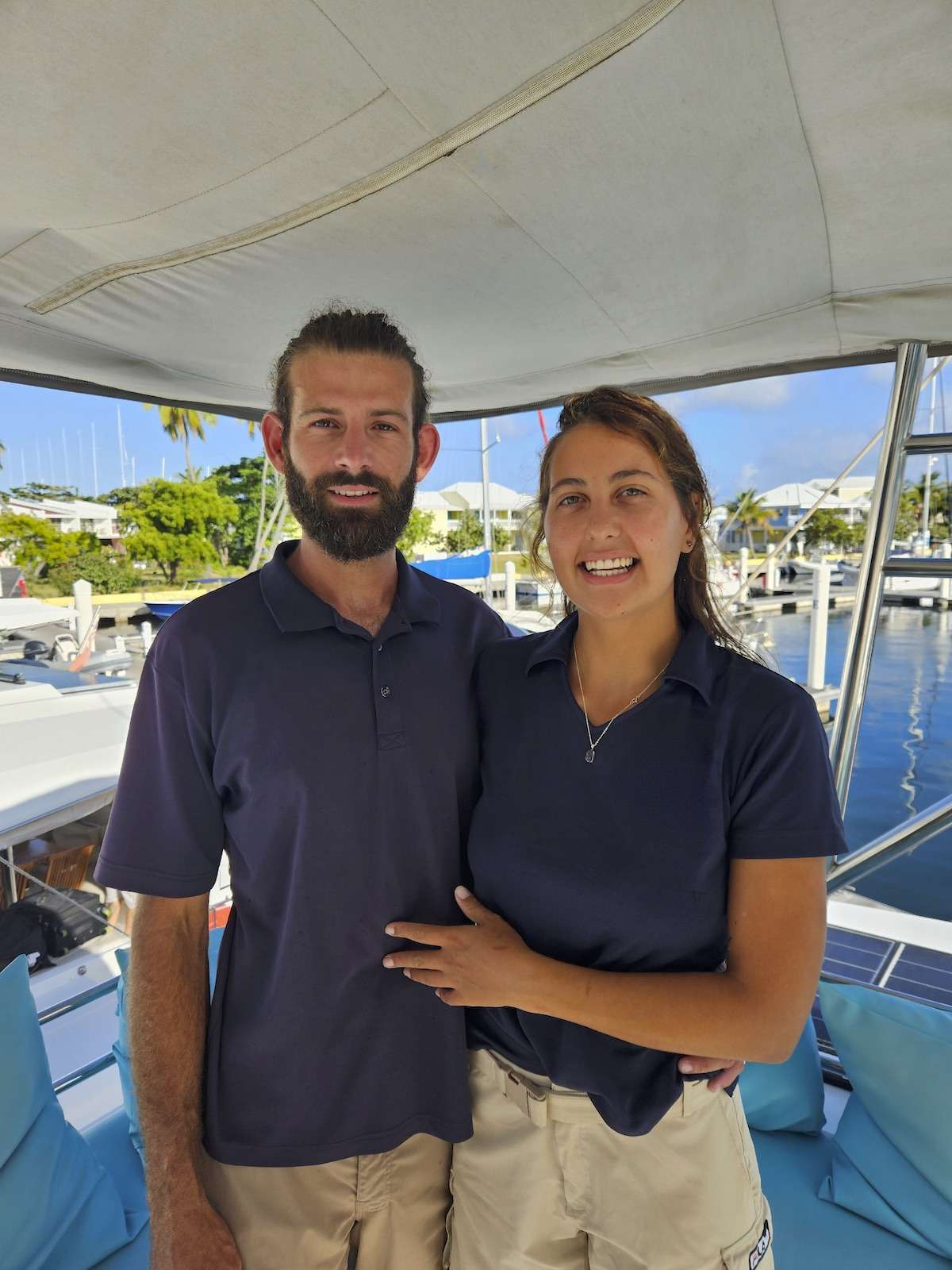 Cuisine
BREAKFAST

All are served with fresh fruit, cereal, toast, and bagels
Caribbean Breakfast – Eggs with caramelized onions and pan-fried plantains served on an English muffin
Banana Bread – Freshly baked banana bread packed with almonds
Shakshuka – Eggs poached in a tomato and pepper sauce, topped with fresh parsley
Bailey's French Toast – Breakfast of champions! Boozy French toast served with fresh fruit and maple syrup
Smoked Salmon Breakfast Muffin – Smoked Salmon with cream cheese and eggs served on an English Muffin
Quiche – Creamy spinach, garlic, and mushroom quiche topped with feta cheese
"Portholes" – Eggs baked in a bacon crust served on an English muffin with creamy sweet chili sauce
Baked Omelet – Stuffed with fried mushrooms, onions, and red peppers topped with mozzarella cheese

LUNCH

Sweet and Spicy Tuna Poke Bowl – Seared Tuna with rice, seaweed salad, snap peas, mango, and cucumber.
BBQ Chicken Wraps – Topped with Pineapple salsa, avocado, cheese, lettuce, and sesame seeds
Caribbean Chicken Salad – Chicken, grapes, spring onion, and celery with a creamy curry sauce.
Honey/BBQ Beef koftas on a piece of pita bread – Homemade tzatziki sauce, brie cheese, lettuce, finely chopped carrots
BBQ grilled Pork Ribs & Baked potato – Sweet BBQ Ribs, baked potatoes stuffed with garlic, cheese, and parsley with a sour cream sauce and spring onion
Home-Made Beef Lasagna with Broccoli Salad – Beef lasagna with a creamy white sauce topped with cheddar cheese and mozzarella. Broccoli, bacon, feta, and raisin salad
Carbonara – Pasta with carbonara sauce and crispy bacon. Served with garlic baguette.
Feta & Bacon Caesar Salad – Packed with avocado, cucumber, and homemade croutons

APPETIZERS

Homemade HummusServed with a selection of cruités
Cold MeatToped with honey mustard sauce/Blue cheese
Chocolate fondue – Served with strawberry and banana
Charcuterie platter – A selection of cheese and meats along with local produce and crackers.
Bacon Cherry'sRed Cherry's wrapped in bacon and pan-fried
Baked BrieToped with garlic and rosemary served with crackers
Cream Cheese or Sweet chutney Grain CrackersToped with blue cheese/salami/tomato/feta/cucumber
Cheesy Quesadillas – served with guacamole and salsa

STARTERS

Sweet Chutney Brie Tart – Served with Caramelized onions
La Cream zucchini soup – Served with Fresh Baguettes
Goat's cheese rolled in caramelized walnuts – Served with a sweet Beetroot and Tangy dressing
Creamy Sweet Chili Mussels – Served with Fresh Baguettes
Roasted Butternut soup – Topped with Black pepper and Croutons
Cold Calamari salad – Topped with avocado and sesame seeds on a bed of lettuce with a creamy chili sauce
Tomato and parsley Bruschetta – Served on fresh baguettes, topped with sesame seeds
Tuna Sashimi – Topped with fine chopped red onions, Red pepper & Parsley

DINNER

Sweet & Spicy Mahi Mahi Served with Yellow rice and roasted chickpea salad
Pork Tenderloin with a Black pepper sauce Served with a creamy mashed potato topped with caramelized onion and a sweet potato, feta, and walnut salad
Butter chicken curry with eggplant & potatoes served with coconut rice and Green salad
Creamy prawn pasta served with butternut and fetta salad
Garlic Butter Lobster served with Roasted vegetables. mix rice and a blue cheese apple salad
White wine, Mushroom Risotto served with an avocado, tomato salad
Lemon, Garlic salmon served with a spicy black bean & plantain on top of butter couscous
Beef steak served with roasted asparagus and sweet mashed potato

DESSERT

Key lime pie – Topped with cream and lime zest
Dark chocolate cake – Topped with homemade caramel sauce and almond nuts
Oreo chocolate mouse with a Oreo cookie layer under the milky chocolate mouse
Banana split – vanilla ice cream with chocolate sauce topped with red cherry's & wall nuts
Chocolate Brownies served with chocolate sauce & Ice cream
Apple Crumble served with whipped cream
Passion fruit delight – Topped with freshly cut passion fruit
Blueberry Cheese Cake – Topped with freshly cut blueberry's