starting at
$35,500/week
British Virgin Islands
62 ft sailing catamaran
Accommodates up to 8
4 Queen ensuite cabins
Great for families
FOXY LADY, a first-class Lagoon 620 catamaran, providing luxury accommodation for 8 guests, with 4 queen ensuite cabins.
Foxy Lady, a first-class Lagoon 620 catamaran, is available for charter in the Caribbean and is based in the British Virgin Islands, providing luxury accommodation for 8 guests, with full board and an open bar.
Come and experience the lifestyle offered in this stunning part of the world, aboard this popular sailing catamaran. Join us on Foxy Lady to discover perfect bays and secret spots, an adventure where privateers and pirates once roamed and sail downwind with the sun on your face and a drink in your hand. Sit back and soak up the sun on one of Foxy Lady's many couches and sun beds, or take a well-deserved nap in your fully air-conditioned cabin. Snorkel or dive a sunken wreck, tropical reef or in the sandy shallows right off the beach or the back of Foxy Lady, and afterward enjoy a refreshing shower on deck.
Join in for themed nights, cocktail parties, children's games, sundowner treats, and delicious meals. Get involved in the sailing of Foxy Lady with the enthusiastic advice given by your captain. Watch as your children enjoy a thrilling ride on the tube behind our large 16′ tender, or play hide and go seek on the best floating toys ever! See them take an interest in the fascinating underwater world or learn firsthand why the ocean glows at night. How would you like to catch (and release) a fish off the back of Foxy Lady, or partake in an amazing night swim to view the fish and stingrays attracted by our underwater lights?
Come and experience the art of living… Choose this winning combination of yacht and crew, and you are in the best possible hands for the EPIC vacation of a lifetime.
*For Rates, see PRICING Tab below – Holiday weeks may differ, please enquire!
Your Crew
CAPTAIN ROB & CHEF/MATE BECKY
Rob and Becky Willows were born and raised in South Africa, they are both avid travelers who have managed to check off every continent separately and together.
Rob is a commercially endorsed Royal Yachting Association Captain with many years of sailing behind him. Having grown up racing dinghies and sailing bigger yachts, he is incredibly knowledgeable and capable behind the helm. You will definitely feel safe with Rob, both on and on the water. He loves to be in the water too, and show you all the incredible beauty beneath the waves. Rob is also a whizz in the galley and is known for his breakfast and BBQ grill skills.
Becky has been a food lover, having grown up in an extended family of chefs. Having gone to culinary school in South Africa, a cultural melting pot, her cuisine is varied and exciting. She loves taking care of people and seems to know what you want and need before you do. Not only adept in the kitchen, she is also quite a capable sailor herself.
Together, Rob and Becky are a super team and will go out of their way to ensure that you have the best sailing vacation possible.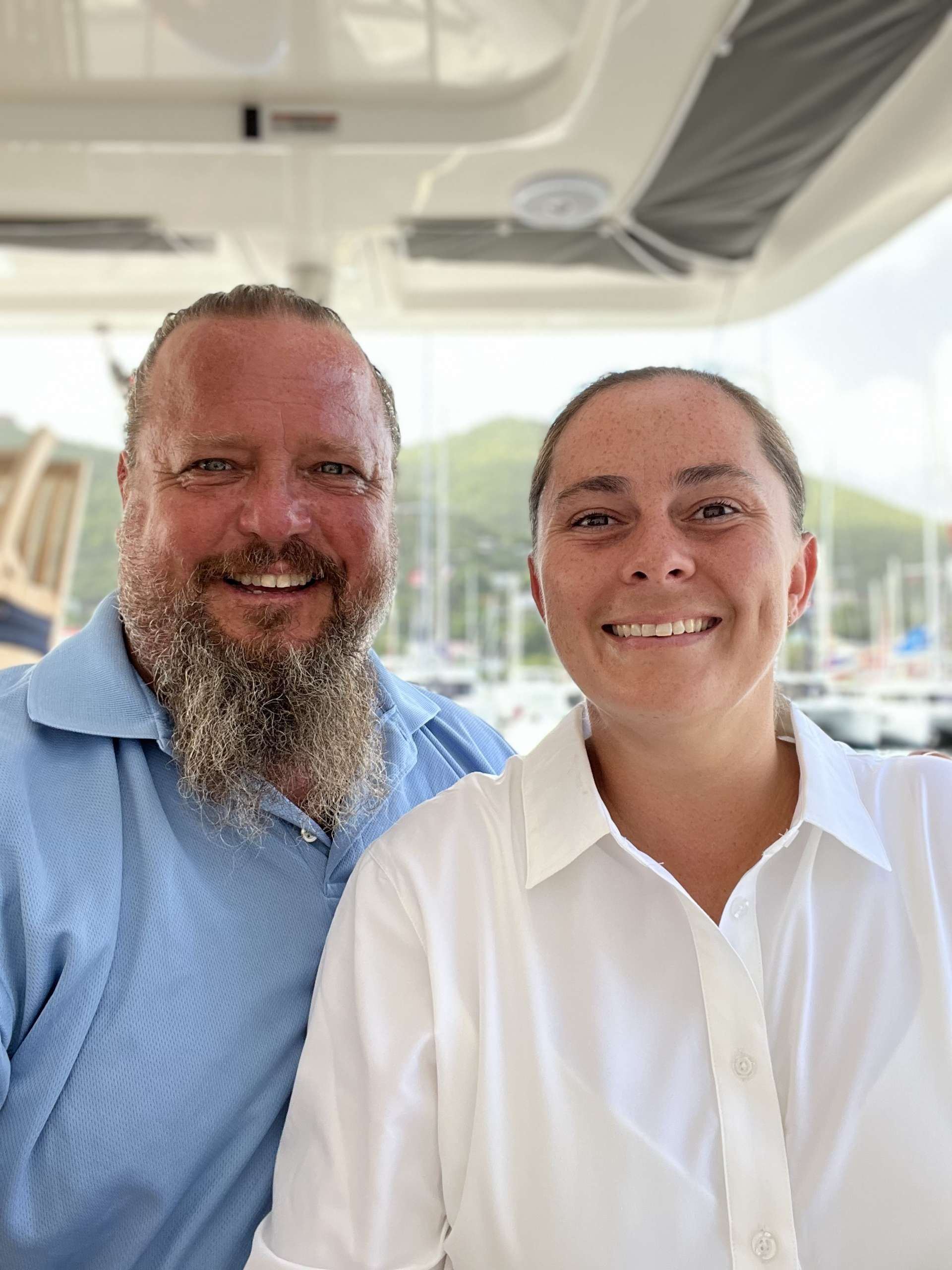 Cuisine
BREAKFAST

Eggs Benedict with Duck Confit
Smoked Salmon Bagels with Scrambled Eggs
Spinach, tomato and feta Omelets
Full English fry up
Pancakes, Mixed Berries, and Bacon
Italian basil and tomato breakfast with prosciutto and poached eggs
Huevos Rancheros

LUNCH

Seared Ahi Tuna on an Asian slaw
Asian Beef Salad
French Style Charcuterie Board
Chicken Cesar Salad with homemade bread
Greek chicken salad with orzo
Chicken Quinoa and Avocado Salad
Fresh caught Thai green curry fish skewers with coconut rice

APPETIZERS

Moroccan Lamb meatballs, tzatziki and pitas
Ceviche
Homemade Flatbreads
Loaded nachos
Conch Fritters
Shrimp spoons with guacamole and Sweet Chili Sauce
Caprese salad bruschetta

DINNER

Pork Tenderloin with Butternut and Brussel sprouts with a red wine jus
Chicken Marsala with a mashed potato and zucchini stack
Steamed Mahi Mahi served over shrimp risotto with garden peas and a champagne cream sauce
Shrimp and lobster tortellini with a sundried tomato pesto sauce
Herb crusted lamb rack served with seasonal roasted vegetables and demi-glace
Teriyaki Salmon with Squid Ink Pasta
Fillet steak with Madagascan green peppercorn and cognac sauce served with steamed broccoli and duck fat roasted baby potatoes

DESSERT

Blackberry cobbler
Two toned Baileys and Kahlua Chocolate Mousse
Passionfruit Pana Cotta
Malva Pudding and custard
Key Lime Pie
Crème Brulé
Fudge Brownies and Ice Cream