Karma - Catamaran
Diving & Sailing
50 ft sailing catamaran
Accommodates up to 8
4 queen ensuite cabins
Scuba diving onboard
Popular! Viewed 138 times in the last 30 days
From $23,000/week
Make an Inquiry
Are You Ready to Start Your Journey?
I am happy to assist you in your search. Please call or email me.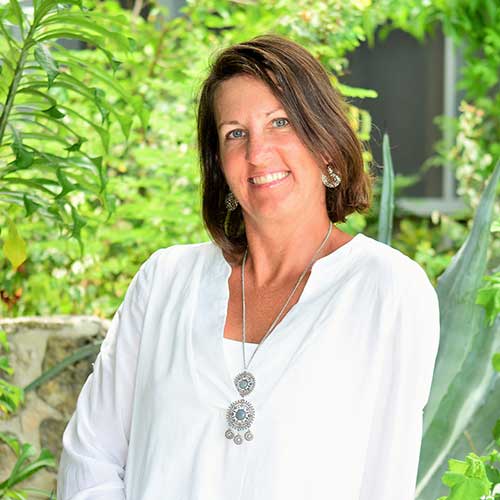 Michelle Heyns
+1 (954) 543-1270
[email protected]
Make an inquiry
Print this page
Please click to
. This might take up to 20 seconds.
Download PDF
Please click to

. This might take up to 20 seconds.
KARMA is a luxury 50 ft Lagoon sailing catamaran.
This new look model is finished to a very high quality and boasting every modern convenience. With 4 spacious queen cabins with full en-suite bathrooms to choose from, you will be surprised at the height of the cabins. The salon in KARMA is gorgeous, very modern with a low, L-shaped sofa with lovely bright accent cushions. The whole appearance is light and inviting. There is air conditioning throughout the yacht and can be controlled individually. Surround sound is everywhere from the cockpit to the upper deck. The cockpit follows the same theme as the interior with neutral upholstery and brightly colored cushions complimenting the teak decking. The whole area is well protected from the elements with drop-down shades and a large Bimini sun-shade.
Your experienced crew is going to spoil you on your "Epic" KARMA vacation!
*For Rates, see PRICING Tab below – Holiday weeks may differ, please enquire!
The specifics
Pricing
Availability
Crew
Cuisine
Amenities
Reviews
Videos
Scuba
| Season | 2 Pax | 3 Pax | 4 Pax | 5 Pax | 6 Pax | 7 Pax | 8 Pax |
| --- | --- | --- | --- | --- | --- | --- | --- |
| Winter 2021 to 2022 | $23,000 | $23,500 | $24,000 | $24,500 | $25,000 | $25,500 | $26,000 |
| Summer 2022 | $23,000 | $23,500 | $24,000 | $24,500 | $25,000 | $25,500 | $26,000 |
| Winter 2022 to 2023 | $23,000 | $23,500 | $24,000 | $24,500 | $25,000 | $25,500 | $26,000 |
| Summer 2023 | $23,000 | $23,500 | $24,000 | $24,500 | $25,000 | $25,500 | $26,000 |
Holiday offers
Please note that Holiday rates are subject to change.
Christmas week: $28,000
New Year week: $32,000
PRICE INCLUDES:
Use of the yacht with our Professional Captain and Chef and additional crew
All Onboard Meals – Breakfast, Lunch, Appetizer, Dinner, and Dessert
Snacks – Fresh Fruit, Popcorn, Granola Bars, Chips, Chocolates and more
Beverages – Water, Juices, Sodas, Coffee, Beer, Wine, and a Fully Stocked Bar
Water Sport activities
Broadband Wireless Internet Access
Air Conditioning
Fuel for the yacht and dinghy
PRICE DOES NOT INCLUDE:
If the charter area includes the BVI; cruising permits, national parks fees, fishing permits, taxes, and port fees are not included.
Shore activities such as dining, shopping, or special off yacht excursions
Premium Beverages/Wines not normally stocked and excessive alcohol consumption
Airport Transfers
Crew gratuity; 15-20% of the charter cost
Availability
Highlighted dates are booked, on hold, or unavailable. We may be able to challenge the dates on hold. Please contact us for details. All other dates not highlighted are available. You can use the arrow icons to navigate through the months.
Dates Color Key
If no color is noted on calendar or in the detailed list below, the dates are available for your charter
Booked (Booked by another client group already)
Hold (Held by another client group, not yet booked, and can be challenged)
Unavailable (Blocked out by the Owner and unavailable to challenge)
Transit
CAPTAIN TOM & CHEF/MATE HANNAH
Tom and Hannah fell in love sailing the crystal clear waters of the Adriatic Sea. They met in Croatia for work, but with Tom being a skipper and Hannah running the events, they hadn't had the chance to connect. During a sailing trip together through Montenegro, they finally had a chance to get to know each other and the rest is history.
After falling in love, Tom and Hannah have traveled the world together from Croatia and Montenegro to Ireland and Morocco. Their adventurous spirits led them to fulfill their dreams to run charters together in the Caribbean. Hannah and Tom are 'go with the flow', and are experienced at tailoring each charter to be as fast-paced or as relaxed as guests desire.
Tom was born and raised in Northern California and grew up sailing in the San Francisco Bay. He completed his Bachelor of Arts degree in Economics at UC Santa Barbara. After working in the corporate world for 5 years he decided to change course and follow his passions for sailing and skiing.
He completed his RYA Yacht-master in 2017 in Barcelona and since then has sailed professionally in Croatia, Greece, and Montenegro during the summer months. In the winter Tom spent his days skiing the beautiful mountains in Jackson, Wyoming. Tom is passionate about creating unforgettable charter experiences for guests, through land exploration, scuba diving, snorkeling, and water-sports.
Hannah was born and raised just outside New York City in Westchester, New York where her love for food began. It's no wonder Hannah is such a foodie, coming from a family that planned monthly food tours finding the best local restaurants throughout NYC. She had thought about turning her passion for food into a career, but as soon as she graduated from high school, Hannah traded snow for sunshine attending the University of Miami. After college, Hannah first went into the event planning industry which fused her knack for organization and craftiness. Becoming a chef was always in the back of her mind while she worked on boats in Croatia and Montenegro, and that's when she decided to turn it into a reality. Hannah loves to fuse the food of her heritage with the cuisines of the places she's traveled. She also enjoys the thrill of fishing, especially when she can cook and eat what she catches. Hannah can't wait to curate a journey for all her
charter guests while they set sail to explore the Virgin Islands!
BREAKFAST
Middle Eastern shakshuka served with feta and toasted bread
Avocado toast topped with sautéed mushrooms and a fried egg
Eggs royale served on a warm croissant with homemade
Savory French toast topped with ricotta, arugula, prosciutto, and sautéed mushrooms
Baked vegetable frittata with tomatoes, basil, and feta
Acai bowl topped with assorted fruits, coconut shavings, and chia seeds
LUNCH
Grilled shrimp served with coconut rice and mango avocado
Israeli falafel bowls served with homemade tzatziki and pita
Grilled tikka marinated chicken skewers served over Moroccan couscous
Blackened fish tacos topped with pineapple salsa
Seared ahi poke bowls served with sushi rice and assorted vegetables
Grilled chicken Caesar salad with homemade dressing and croutons
Slow-cooked pulled pork sliders served with cabbage slaw
APPETIZERS
Grilled halloumi and watermelon salad
Baked brie with fig jam
Charcuterie & cheese board
Thai rainbow rolls with a peanut dipping sauce
Grilled polenta with blistered balsamic cherry tomatoes and goat cheese
Homemade hummus served with crunchy pita chips and a selection of vegetables
Flaky puff pastry tart filled with blue cheese, pears, walnuts, balsamic onions, and rocket
DINNER
Seared lamb chops over fried crispy turmeric butter rice with a lemon yogurt dressing
Salmon en papillote with lemon asparagus and couscous
Seared scallops on top of a bed of mushroom risotto
Thai coconut milk poached cod with bok choy and cilantro lime rice
Chicken Francaise with cheesy orzo and broccolini
Coconut curry crusted grouper with fried plantains and coleslaw
Seared steak served with butternut squash puree and baby roasted potatoes
DESSERT
Key lime pie with fresh whipped cream
New York-style cheesecake
Chocolate mousse with fresh whipped cream
Warm brownies with ice cream
Bananas Foster with vanilla ice cream
Chocolate-Dipped Assortment of Fruit
Fresh baked chocolate chip cookies with a scoop of ice cream
AMENITIES
Air conditioning and fans
Swim platforms and heated deck showers
Water-maker & generator
Salon TV and surround sound
WiFi Internet access
iPod/device docking station
Cockpit ice maker
Barbecue
WATER FUN
12′ RIB tender w/ 30 hp engine
Water Skis for adults & children
Snorkel Gear
Towable Tube
Floating mats & Beach games
2 Stand up paddle-boards
Fishing gear trolling/casting
Underwater camera/video
2 person kayaks
Scuba Diving onboard
SPECIFICATIONS
Model: Lagoon Catamaran
Year: 2020
LOA: 50′
Beam: 27′
Draft: 5′
Engines: 2 x 75Hp Diesel
Flag: USA
Epic Yacht Charters
Average rating:
14 reviews
Jul 30, 2020
Seeing Sea Turtles Was Amazing
Thank you for an amazing trip! It truly was one of the best trips of my life that I will never forget. I am so grateful to all of you for what you did the last week. I loved the diving, the drinks, and floating behind the boat. My favorite part was seeing the sea turtles. That was incredible!
Jul 30, 2020
So Thankful For The Memories
We have had many many vacations and this trip exceeded our expectations. We have done this trip before and the islands, water and boat are a given, but the awesomeness that this crew brought to the experience can't be duplicated. The food was incredible, the drinks were outstanding and the little touches and details were unexpected and sweet. We're so thankful for the memories we will cherish with our kids forever. Thank you so much!
Jul 30, 2020
Amazing Adventure
Thank you for an amazing adventure.  You have made this a memorable vacation with our friends and family. The scuba dives were great. Snorkeling was fantastic and the food and drink were exceptional. You catered not only to our families but to us individually. Thank you so much for being a part of our memories
Jul 4, 2020
Marvelous Trip!
Thank you for a marvelous trip! We will never forget the amazing and delicious food made by the chef. As you ay have noticed, for us, Puerto Ricans, FOOD IS VERY IMPORTANT.
Captain, your service and hospitality was two thumbs up!! Excellent mixology and bartending skills. We won't forget the places and nice spots you chose for us. There are no words to describe the way you treated us and your hospitality. We will definitely recommend you and come back!!"
Mar 5, 2020
Awesome Time
We had an awesome time! Words can not express the service given by the crew. They were so professional, engaging, knowledgeable and fun. We could go on and on about them. You are extremely lucky to have them represent your company and the owner needs to take care of them…..they made our trip! As for the boat….nothing! It was perfect in every way!! Anyway, thank you very much…it was everything we imagined it would be except for the crew….again the crew made our trip. We hope to cross paths again! OH, the food AMAZING!!! The chef out did herself. She took care of every need and request and made sure we were happy. SUPER AMAZING TIME!!
Mar 7, 2020
Best Family Vacation Ever
We have all decided this was our best family vacation ever (and we've taken a lot). It's really hard to make everyone happy all at once, but this boat and crew succeeded. They were able to plan the perfect activities and meals based on one phone call. I was afraid Fred would get stir crazy and want to leave after a few days, but he said he could have stayed for another week. It was a truly spectacular vacation."
Jul 28, 2021
Very Spacious
Really well designed for living. Feels very spacious and comfortable. She is also a beautiful cat and the crew are such great hosts and crew! The are extremely accommodating, thoughtful and helpful. The food was really delicious and I'm a picky eater. Wondering if I can ever come back to the VI and have such a wonderful experience! Thank you so much! We miss you!
Jan 26, 2020
Truly Exceptional
Our first yachting experience has been truly exceptional. The crew created the perfect family holiday for everyone. From the first moment we stepped onboard we knew we had chosen the right boat and crew. The captain planned the perfect amount of activities for each member of our family - dive certification for the kids, numerous hikes, snorkeling, sailing sessions for Alex...the list goes on. And what can be said about the food? The chef nailed it every single time. Everything she made, breakfast, lunch, diner, snacks, was devoured. She knew exactly what each person wanted - truly amazing, Thank you so much for a spectacular week!
Jan 12, 2020
Big Big Thank You
Mayon and Elizabeth were both professional throughout our stay whilst also making our journey a fun experience. Despite it being our first trip to The Caribbean, they made sure they knew where the best places to visit were as well as giving some great restaurant suggestions. The chef was also more than happy to make reservations for us as well as book us any taxis which made our trip even more relaxing. We had some amazing meals on the boat. The chef did everything from homemade hummus to fresh meat balls with pasta. She catered for my dairy allergy with ease. There was always something for me no matter what the rest of the group were having! My personal favourites were the banana pancakes and the apple and pear strudel we had for breakfast! The captain also made sure that we had everything we needed throughout our stay. Speaking to him about sailing and his experiences was very interesting. He also made sure we all had a chance to have a go at sailing if we wanted to. Sailing the boat was definitely a highlight of my week. Charlie and I both felt as though we could have a joke with the crew which made our stay so much more enjoyable. We feel as though we not only finished the week having seen so many new beautiful places and trying out new things but we also left having made two new wonderful friends who we hope to see again soon! So a big big thank you to them both from Charlie and I.
Jan 11, 2020
Pure Paradise
Crew as our new friends, spending the last 6 days at sea with you both has been short of HEAVEN, pure paradise. You are two of the warmest, most talented, most hospitable, intuitive, and most thoughtful people we've ever met ( and we have traveled to lots of place and met lots of people ;) ) We can't thank you enough for the EXCEPTIONAL food (i.e. if we could bathe in the chef's garlic aioli or make an air freshener out of her banana bread - we would!) - not to mention the thoughtfully created days, Hanukkah celebrations, scuba dives, snorkels, hikes, dinghy rides, and sails. We're so lucky that our paths crossed, and we truly hope they cross again in the future! We are so grateful for all the thought you put into every detail of out experience aboard Karma, and we really feel like our vacation was "rigger" for success with you two at the helm. You both have such wonderful generous spirits, and we're so lucky to have met you and the opportunity to sail with you. We know how much work and thought you out into what you do - and we can't thank you enough for it. While we only spent a week with you we will miss the captain's  craft cocktails and the chef's creative culinary masterpieces for a lone time to come! We hope to stay in touch and hear about all of your existing adventures ahead.
SCUBA DIVING ONBOARD
Gear included
3 dives incl. per week for certified divers
Add. dives $25 per dive
Epic Yacht Charters provides the most updated information on yachts available but cannot guarantee any details are 100% correct until we verify with the specific yacht.
Similar Yachts