starting at
$27,000/week
British Virgin Islands
51 ft sailing catamaran
Accommodates up to 8
3 Queen ensuite cabins & 1 double
SCUBA diving onboard
SPECIAL OFFER
1. 10% OFF charter rates for the months of NOV & DEC 2023. 2. NO Christmas premium = $30.000
LA SIRENA is a luxury 51 ft Lagoon sailing catamaran.
La Sirena is not just a beautifully-appointed 2023 Lagoon 51, but so much more: She is the mermaid that will guide guests to ultimate relaxation, boundless adventure, and limitless luxury. Up to eight VIP guests will enjoy the splendor of the Caribbean in superior comfort, whether enjoying meals al fresco in her spacious cockpit or enjoying a sundowner with loved ones on her one-of-a-kind flybridge.
The interior is intentionally crafted with decor and amenities reminiscent of the world's finest resorts. 3 Queen ensuite cabins and a midship cabin are available to guests. Midship and port forward cabins share a bathroom. The crew will take port aft queen cabin. Topside you will find all of the toys and gear to be expected on a premium sailing yacht. Her crew are true professionals, both seasoned mariners and gracious hosts, capable of leading experiences all while providing five-star service. No detail is overlooked and no expense is spared to ensure guests of La Sirena a vacation experience that will leave them feeling rested, renewed, and eager to sail with her again.
Some photos are from the factory.
*For Rates, see PRICING Tab below – Holiday weeks may differ, please enquire!
Your Crew
CAPTAIN DUSTIN & CHEF/MATE ALLIE
DUSTIN – I knew at a young age that my entire life was going to revolve around the ocean, so much so that I attended California Maritime Academy and earned a Bachelor of Science degree in Marine Transportation with a minor in Marine Engineering. Upon graduating I immediately signed on as Third Officer aboard the 495' oil tanker, Baltimore, navigating the waters from British Columbia in the Pacific to New England and everywhere in between, including 2 passages through the Panama Canal.
It was during a visit to the shipyard in Veracruz, Mexico when I met the love of my life and future wife, Citlalli Nicolas Vazquez. Suddenly the ocean was no longer my one true love. Now I had to find a way to continue working on the ocean with Citlalli "Alli" by my side. It was then that I decided to transition to dive boats, moving to Hawaii to captain the live-aboard dive vessel, Kona Aggressor II, in the hopes Alli would be able to join me in Hawaii. It was here that I became a PADI professional and fell in love with teaching scuba diving. In 2011 Alli and I were blessed with the opportunity to embark as a team aboard the yacht, TOROA. TOROA has taken us over 50,000 nautical miles and over 20 countries, all while allowing us to develop our skills as professional mariners and excellent stewards of our vessel and our environment.
I am proud of what I have achieved as Captain of TOROA. Working with the same owner for almost 12 years has proven my ability to maintain a luxury yacht to the highest standards whilst building a trusting relationship with the owner and guests. I take pride in my work and I look forward to proving that on my next command of a luxury sailing catamaran.
ALLIE – I was born in the commercial port of Veracruz, Mexico. Even though I was near the water most of my life I didn't learn how to swim until the age of 23! My childhood was spent mostly in the kitchen with my mother helping her bake bread for her pastry business. If I wasn't helping in the kitchen I was singing and performing as a traditional folkloric dancer representing the customs of Mexico. As a child, my parents would play American rock and roll music, something that helped me learn English and started my love of different cultures and different languages. In 2006 I graduated college with a degree in foreign languages and became an English teacher. I taught kindergarten through elementary school for 3 years until a ship carrying my future husband arrived in port and my life changed forever.
In 2010 I left my home and everything I knew to work side by side with Dustin as a Stewardess and later as a Chef. During that time I became an avid swimmer, a PADI Advanced Open Water Diver, and even a Level 1 Freediver! When I am not in the galley then I love taking guests on snorkeling adventures.
In 2018 I became a US citizen and in 2021 I became a US Coast Guard licensed Captain, two of my proudest accomplishments. For the past 13 years, I have sailed side by side with my husband, perfecting my skills as a Chef, Stewardess, sailor, and Mate. I am excited to show my talents and share new adventures with guests and owners!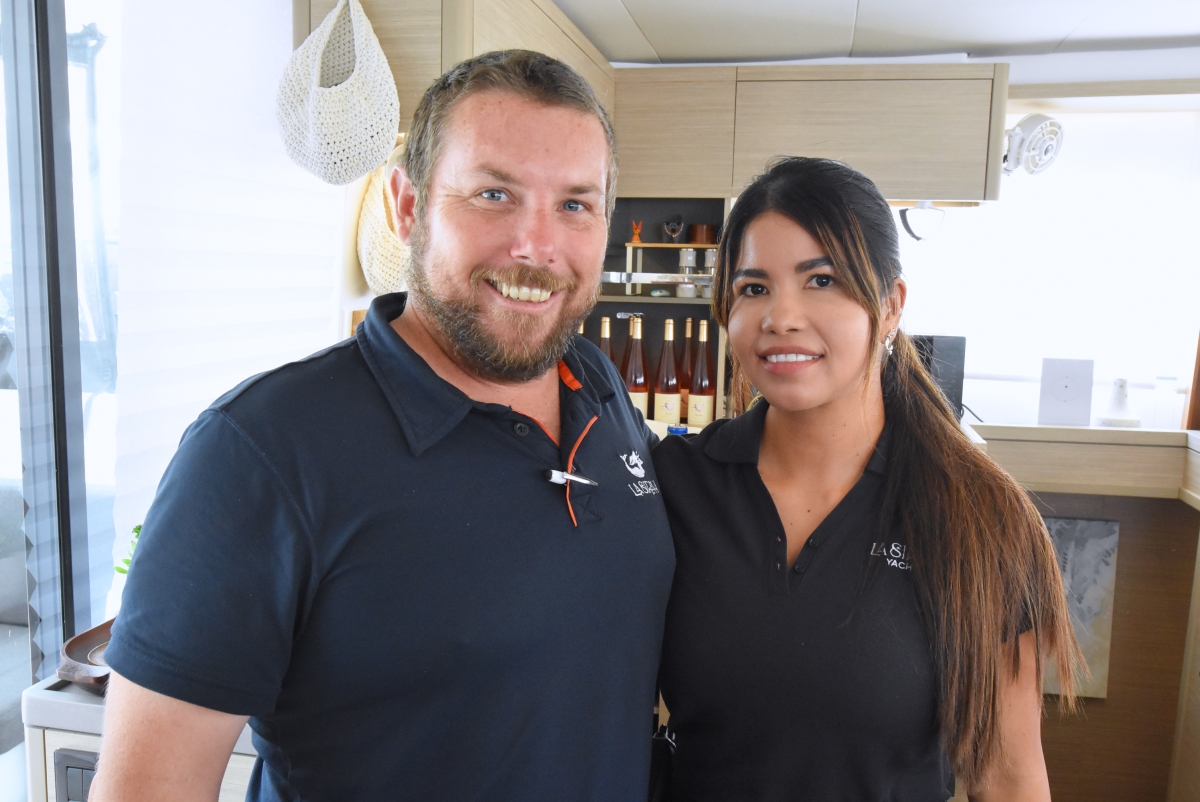 Cuisine
BREAKFAST

Avocado Toast with Fresh Avocado, Tomato, Arugula, Poached Egg & Hollandaise Sauce
Banana Oatmilk Pancakes topped with Fresh Berries
Greek Yogurt Parfaits with Fresh Cut Seasonal Fruit, Muesli & Honey
American Style Egg Omelettes Served with Crisp Bacon, Breakfast Potatoes & Toast
Vanilla French Toast
Breakfast Quesadillas with Scrambled Eggs, Mexican Cheese, Bacon Bits, Salsa & Sour Cream
Smoked Salmon Bagel with Cream Cheese, Dill, Red Onions & Capers

LUNCH

Chilaquiles in Roasted Tomatillo Sauce Served with Fried Egg, Cheese, Sour Cream & Red Onions
Mahi Mahi Burgers with Fresh Romaine Lettuce, Slices of Fresh Tomato, Tartare Sauce, and Sweet Potato Fries
Chicken Cobb Salad with Chopped Romaine, Cotija Cheese, Corn, Egg, Avocado, Pico de Gallo, and Chipotle Dressing
Golden Tortilla Bowl
Beef Taco Salad
Citrus Peruvian Ceviche
Italian Grilled Caprese Panini

DINNER

Cuban Picadillo Served on a bed of Rice
Spaghetti in Truffle Oil and Clams
BBQ Ribs served with Broccoli and Baked Potato
Tomato Curry Pork Chops
Spanish Paella
Creamy Penne Pasta with Garlic Mushroom Chicken
Meatloaf Served with Asparagus and Mashed Potatoes

DESSERT

Rum Cake a la Mode
Creme Brulee
Homemade Tres Leches Cake
Key Lime Pie
Homemade Flan
Vanilla Ice Cream with berries
Chocolate Cake