starting at
$31,000/week
British Virgin Islands
52 ft sailing catamaran
Accommodates up to 8
3 Queen ensuite cabins & twin bunks
SCUBA diving onboard
SPECIAL OFFER
10% OFF charter rates for the months of NOV & DEC 2023.
Liquid Zen is a Lagoon 52 ideal for a large group or families.
Beautiful LIQUID ZEN is a 52ft Lagoon, offering 3 large queen berths and 1 twin bunk cabin. Each cabin has a private bathroom with separate shower.
The salon, which can seat up to 8 guests for dining or lounging, has lovely natural lighting provided by the vast wrap around windows. The cabins also have large windows with lovely neutral bedding and soft furnishings, creating a very modern feel.
LIQUID ZEN's exterior offers alfresco dining for up to 8 guests on the spacious aft deck. Top deck seating and lounging is located behind the helm, here you can get wonderful views, while experiencing the Caribbean breeze. The foredeck offers a seating area, where you can enjoy a cocktail and appetizer. With numerous lounging areas, there is plenty of space for gathering as a group or finding a private place to relax.
Spoil yourself on this exciting EPIC charter yacht big enough for large families or a group.
*For Rates, see PRICING Tab below – Holiday weeks may differ, please enquire!
Your Crew
CAPTAIN MICHAEL & CHEF/MATE SARA
Michael was born in Northwestern Pennsylvania by Lake Erie. Being around lakes and freshwater rivers fishing and boating were a big part of growing up. After attending university at Edinboro PA and getting an accounting degree his career plans took a turn when he took an interest in Maritime in San Francisco in 2015. The rest is history and his love of the ocean, care, and safety of vessels, and providing the best experience to guests and friends around him to the top standards has become his main goal.
Michael worked as an engineer on larger yachts before adventuring into a captain role aboard catamarans. He has been running Floatation Therapy a 450 lagoon for 3 seasons, always providing the best guests experience and maintaining the vessel to the highest standards.
Sara was born in Texas and lived her younger years in San Antonio. At 13 years old her parents decided to move onto their 41'morgan out island sailboat. She lived on board Invincible until she was 18. During those 5 years onboard, she traveled through the eastern and western Caribbean learning Spanish, surfing, sailing, and living a life on the ocean. Growing up on the ocean inspired her to pursue a career in maritime.
She loves entertaining and sharing her knowledge of the water to ensure the most spectacular time for her guests and friends alike. Being the chef onboard it will be her pleasure for her to provide you the absolute best entrees and hors d'oeuvres. Sara with her sense of adventure, love for the water, and culinary skills will ensure you have the best experience on any vessel. Sara has taken her cooking to the next level over the past 3 seasons on Floatation Therapy, attending culinary courses, and always coming up with the next best dish on her menu.
Michael and Sara first met on a 160' sailing yacht in New York City working as a crew. Michael was the engineer and Sara was the deckhand/crew chef. They hit it off instantly developing a relationship both professionally and romantically. The couple worked for 2 years together sailing and exploring New York, Newport in the summer, the Caribbean, and Bermuda in the winter. Michael and Sara took their skills to the sailing catamaran Floatation Therapy for 3 seasons, providing the best experience for all their charter guests.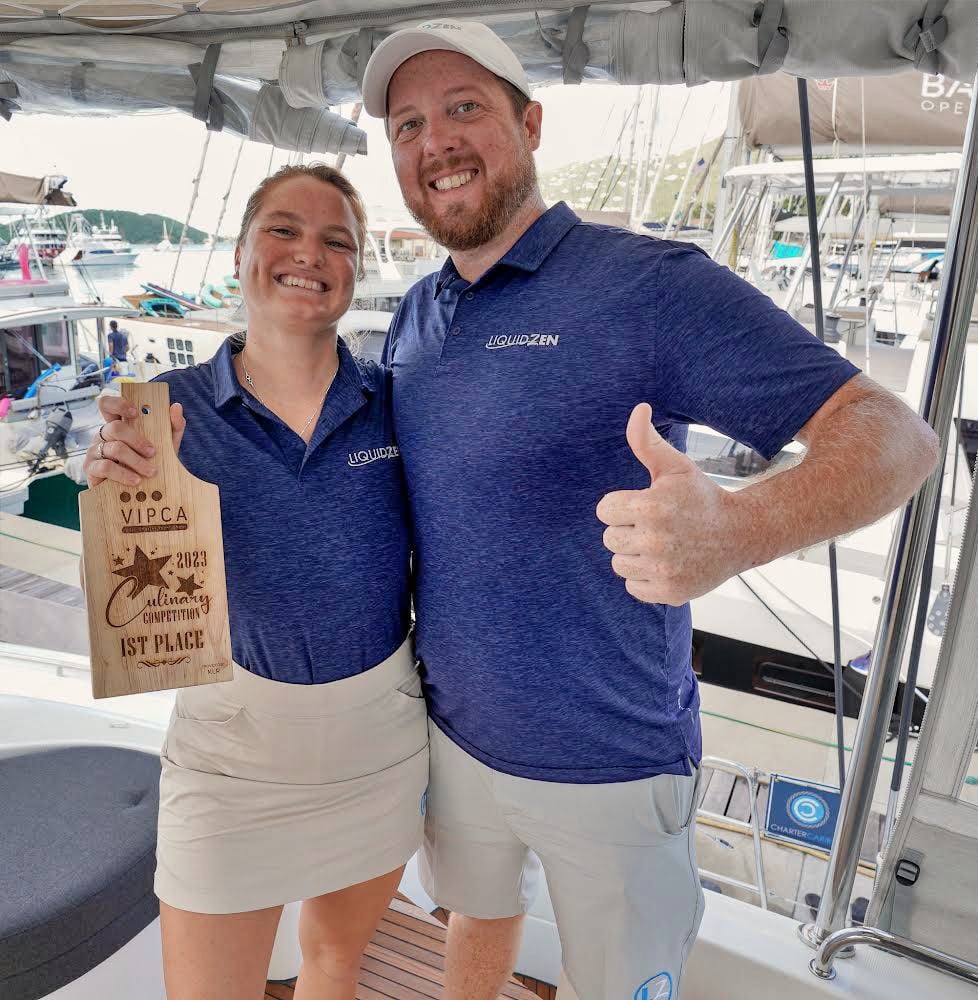 Cuisine
BREAKFAST

Served with juice, coffee, or tea of your choice, a local fruit platter, and fresh-baked pastries
Eggs Benedict with Canadian bacon, poached eggs, and creamy hollandaise sauce on an English muffin Huevos
Rancheros with homemade refried black beans, fresh Pico de Gallo, avocado, feta, fried egg Brioche French Toast with fresh berries and maple syrup served with bacon
Blueberry Pancakes topped with banana and coconut flakes served with sausage patties
Basic B: Eggs your way, bacon or sausage, roasted potatoes, toast
Avocado Toast served with poached egg and burst mini heirloom tomatoes Artichoke, Leek and Bacon Quiche with greens
Lighter selections of cereal, Greek yogurt parfaits, smoothies, overnight oats, and toast are also available

LUNCH

Served with chilled water, soda, beer, or wine of your choice
Seared Tuna Linguini, homemade pesto, green olives
Char Sui Pulled Pork Bao Buns with a watermelon, mint, pomegranate salad
Chicken Caesar Salad with homemade herb croutons, soft-boiled egg, bacon, parmesan cheese Crab Cakes with a homemade remoulade, and passionfruit slaw
Spicy Salmon Sushi Stacks served with edamame and wonton crisps
Shrimp Fried Rice Pineapple Boats
Carne Asada Tacos with cilantro lime garlic crema served with chips and guacamole

APPETIZERS

Served with a cocktail of the day
Thai Vegetarian Spring Rolls with sweet chili dipping sauce
Crab & Avocado Filo Baskets
Stuffed Mushrooms
Fresh Caught Ceviche: tuna or wahoo cured in citrus, coconut milk, cilantro Crispy Salted Tostones with a green goddess dipping sauce
Charcuterie: a spread of cured meats and artisanal cheeses with accompaniments Mezze Board: platter of flatbreads, veggies, hummus, baba ghanoush, olives, nuts

DINNER

Served with chilled water, soda, beer, or wine of your choice
Chermoula Baked Red Snapper with Tabbouleh and Aubergine Caviar
Squid Ink Seafood Pasta, fricassee of cockles, mussels, and prawns
Best End of Lamb, dauphinoise Potato, roast vegetables, rosemary garlic oil, Madeira jus
Pistachio Crusted Seared Scallops, butternut squash puree, brussels sprouts, pomegranate
Sous Vide Beef Filet with cauliflower puree, roasted fennel, asparagus, garlic, and thyme butter Blackened Mahi Mahi with mango curry, red pepper, mango and cucumber salsa, and coconut rice
Chipotle and Malbec Braised Beef Short Ribs, potato mash, green beans, cilantro
Crab Boil with sausage, corn, shrimp served with roasted broccoli and Creole potato salad

DESSERT

Crème Brulee
Luxury Chocolate Tart with black peppercorn ice cream
Key Lime Pie with fresh whipped cream
Honey Panna Cotta with tropical fruit salad
Caribbean Rum Cake
White Chocolate & Cardamon Tart, dark chocolate sorbet, white chocolate snow
Passionfruit and Mango Eaton Mess