starting at
€18,500/week
Greece
52 ft sailing catamaran
Accommodates up to 12
5 Double + 1 Bunks ensuite cabins
Great for large groups
LUCKY CLOVER is a 52 ft Lagoon sailing catamaran with luxury accommodations for 12 guests.
LUCKY CLOVER is a F52 sailing catamaran that combines noble and luxurious materials, with soft shades for a harmonious interior. Continuous horizontal and fluent lines give the interior open and generous spaces. Continuity between exterior and interior life with a slender exterior design for a boat with a strong character.
With all the action happening on a big flybridge, one flight upstairs from the passenger cockpit and far above the water. Passengers who prefer to enjoy the ride quietly or converse with others can lounge in the cockpit below or sit sunning on the bows as the dolphins arc past. Lucky Clover accommodates 12 guests in 5 double cabins and one cabin with bunk beds all with private bathrooms. She is an ideal yacht for causing the Greek islands.
*For Rates, see the PRICING Tab below – Holiday weeks may differ, please inquire!
Your Crew
CAPTAIN JORDAN
Jordan is from Greece and was born in 1998. He attended Leonteios Private French-Hellenic High School and is very proficient in both English and French. After graduation, he followed his passion for the sea into the yachting industry. He received his licensing and immediately started on yachts- first as a deckhand and soon after as a skipper. For the past 4 years, he has been working successfully as a charter captain in different catamarans from 40-56 ft showing his guests Greek hospitality and providing them with safe and fun holidays!
Jordan is eager to welcome his guests to beautiful Greece and show them the stunning islands. In his free time, Jordan loves open sea sailing, swimming, free diving, spearfishing, SCUBA diving, kayaking, listening to music, and hiking.
Languages: Greek, English, French (fluent)
CHEF GIANNIS
Giannis has a degree in Culinary Arts, which he obtained from a prestigious culinary school in Greece. He spent a few years living in Australia, where he also gained a Certificate as an Electrotechnology Engineer. Giannis is new to the yachting industry, but he is excited to bring his skills and culinary experience to a new level. He is a highly skilled chef offering a wide range of tastes who is passionate about creating unique and tasteful dishes using fresh, local ingredients. He is also able to cater to specific dietary requirements and preferences, ensuring that all guests are satisfied with their meals. Giannis has a warm and friendly personality with a great sense of humor, and he enjoys interacting with guests. He is native in both Greek and English.
STEWARDESS MATRONA
Matrona was born on the gorgeous Greek island of Chios, so she has a long history with the sea.
She has completed her studies at the Tourism and Maritime Academy and will begin her yachting career upon graduation. Since 2018, Matrona has been aboard a variety of yachts. She is a highly active person who enjoys water sports, swimming, and hiking. She is eager to assist and provides exceptional service to her guests, making their time on board an unforgettable experience!
Languages: Greek, English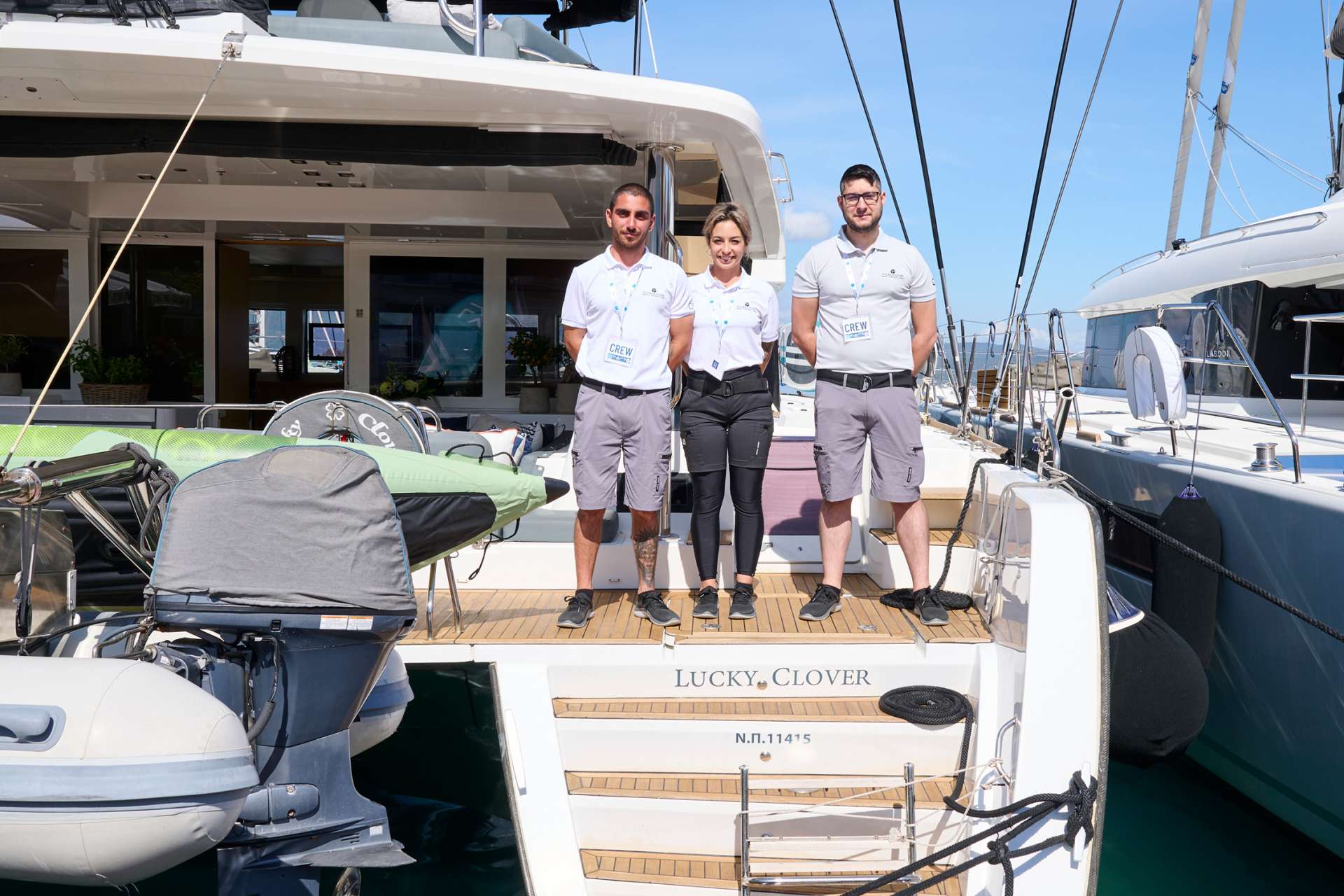 Cuisine
BREAKFAST

Eggs of the day: Avocado toast, Eggs benedict/florentine, omelet, scrambled eggs
Cheese pie/spinach pie
Cold cuts and Cheese platters
Croissant/bread assortment
Fruit platter
Flavored/plain Greek yogurt
Chia pudding
Variety of preference milk
Granola, cornflakes, oats
Porridge

STARTERS

Tzatziki
Dolmadakia (vine leaf-wrapped rice)
Tirokafteri (spicy cheese dip)
Steamed mussels with ouzo and lemon sauce
Feta saganaki with honey and sesame seeds
Eggplant rolls with tomato sauce and crumbled feta
Surf and turf style fried rice
Tuna tartar rice crackers
Panko-breaded shrimp with lemon mayo
Seabass ceviche
Guacamole with sour cream and nachos

SALADS

Greek salad
Dakos salad
Quinoa salad with spicy shrimp
Horta salad (seasonal greens)
Tuna Nicoise salad
Caesar salad
Potato salad with octopus
Burrata with heirloom tomatoes and crispy prosciutto

MAIN COURSES

Moussaka
Gemista (stuffed Bell peppers and tomatoes)
Beef or lamb ragu with papardelle
Lamb chops/ ribeye/ flank steak BBQ
Grilled fish BBQ
Cabbage rolls filled with minced pork and avgolemono sauce
Beef tataki with ponzu sauce
Pan seared sesame crusted salmon
Truffle ponzu octopus with fava guacamole

DESSERTS

Pistachio baklava
Greek yogurt with relish
Mango mousse
Cheesecake
Chocolate tart with whipped cream/strawberries
Ice cream