Mare Blu - Power Catamaran
Comfortable at Speed
64 ft power catamaran
Accommodates up to 8
4 Queen ensuite cabins**
Various destinations
Popular! Viewed 257 times in the last 30 days
From $36,000/week
Make an Inquiry
Are You Ready to Start Your Journey?
I am happy to assist you in your search. Please call or email me.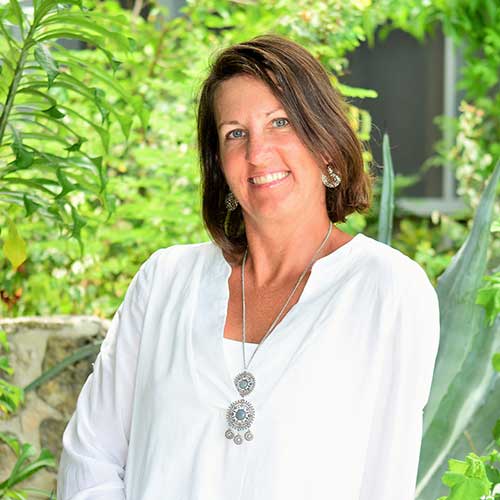 Michelle Heyns
+1 (954) 543-1270
[email protected]
Make an inquiry
Print this page
Please click to
. This might take up to 20 seconds.
Download PDF
Please click to

. This might take up to 20 seconds.
MARE BLU is a 64 ft Lagoon power catamaran with a 33 ft beam making her astonishingly spacious.
Aboard MARE BLU, there are so many seating and sunning options, guests can always find a private space to relax, or enjoy the party together. The master cabin occupies much of the starboard hull. There's a private door to the aft deck, as well as steps down from the saloon. It features a queen-sized, walk-around bed and seating area. The ensuite bathroom has dual sinks, a large separate shower stall, and a vanity. Three other guest cabins are ensuite with queen beds.
Ride high up on the flybridge for sea breezes and unobstructed views. It is perfectly designed for a group of friends, or a family getaway. There's a seating and sunning area with a folding-leaf dining table to starboard, an outdoor kitchen and bar, and generous sun pads. In the hardtop, there is a folding fabric sunroof to optimize or minimize the amount of sun coming through.
**If two single berths are required the crew would be willing to give up the twin cabin (Port midships) for one of the queen cabins.
MARE BLU offers the perfect EPIC combination of performance and luxury. She is stable, amazingly roll resistant, and very fuel-efficient. Video is of sistership.
*For Rates, see PRICING Tab below – Holiday weeks may differ, please enquire!
The specifics
Pricing
Availability
Crew
Cuisine
Amenities
Reviews
Videos
| Season | 2 Pax | 3 Pax | 4 Pax | 5 Pax | 6 Pax | 7 Pax | 8 Pax |
| --- | --- | --- | --- | --- | --- | --- | --- |
| Winter 2021 to 2022 | $36,000 | $36,500 | $37,000 | $37,500 | $38,000 | $38,500 | $39,000 |
| Summer 2022 | $36,000 | $36,500 | $37,000 | $37,500 | $38,000 | $38,500 | $39,000 |
| Winter 2022 to 2023 | $36,000 | $36,500 | $37,000 | $37,500 | $38,000 | $38,500 | $39,000 |
Holiday offers
Please note that Holiday rates are subject to change.
Christmas week: $42,000
New Year week: $42,000
PRICE INCLUDES:
Use of the yacht with our Professional Captain and Chef and additional crew
All Onboard Meals – Breakfast, Lunch, Appetizer, Dinner, and Dessert
Snacks – Fresh Fruit, Popcorn, Granola Bars, Chips, Chocolates and more
Beverages – Water, Juices, Sodas, Coffee, Beer, Wine, and a Fully Stocked Bar
Water Sport activities
Broadband Wireless Internet Access
Air Conditioning
Cruising taxes and permits, BVI licenses, and port fees
Fuel for the yacht and dinghy
PRICE DOES NOT INCLUDE:
Shore activities such as dining, shopping, or special off yacht excursions
Premium Beverages/Wines not normally stocked and excessive alcohol consumption
Airport Transfers
BVI individual fishing permits
Crew gratuity; 15-20% of the charter cost
Availability
Highlighted dates are booked, on hold, or unavailable. We may be able to challenge the dates on hold. Please contact us for details. All other dates not highlighted are available. You can use the arrow icons to navigate through the months.
Dates Color Key
If no color is noted on calendar or in the detailed list below, the dates are available for your charter
Booked (Booked by another client group already)
Hold (Held by another client group, not yet booked, and can be challenged)
Unavailable (Blocked out by the Owner and unavailable to challenge)
Transit
CAPTAIN WILL & CHEF/MATE NICOLE
Willem Knoetze is a Captain that is very easy to warm up to. He has an endearing smile, an infectious laugh, and guests know right away they are in very capable hands. His in-water experience began as a child; going fishing, building rafts, and playing pirate games in the rivers and lakes around the family farm with his brother and sisters. As an expert seaman, scuba diver, and amateur treasure hunter, his playful pirate spirit still runs deep.
Will's tight-knit family, most especially his uncle, inspired his love of the ocean. He says, "Despite having a great job in the IT industry, I had to leave to follow my passion for sailing. Since I was young I loved the ocean above and below the surface. The oceans kept on pulling so I jumped (in) at the opportunity and found my calling in life." He is also a history buff, and snorkeling, spear fishing and underwater photography enthusiast. Fellow enthusiasts aboard MARE BLU can anticipate some truly memorable experiences.
Will has captained many charter yachts throughout the Caribbean; St. Maarten, Guadeloupe, St. Vincent and the Grenadines, Panama, Grand Turk and the Bahamas, He says, "MARE BLU is a superb power catamaran, ideal for island-hopping and exploring. The yacht has spacious accommodations and fantastic deck space, loads of toys, and a super friendly, knowledgeable crew dedicated to memorable moments and unforgettable holidays for guests." That all adds up to one fabulous charter!
Nicole is a Florida girl with a natural born love of sun and sea. She practically grew up in the surf and has always been mesmerized by the ocean and the creatures that live in it. Nicole was destined for the yacht charter industry. She loves boating, diving, water sports, and most of all working with people. She says, "Being on the water is second nature to me. There is nothing more amazing than waking up every morning in a beautiful tropical paradise!"
Nicole is a highly skilled chef. She holds a Certificate of Professional Cookery from the prestigious Ashburton Chefs Academy with an Accredited QCF Level 2 Award in Culinary Skills and HABC Highfield Level 2 Award in Food Safety in Catering. She also excels as a stewardess. She has been organizing parties, vacations, celebrations and been hostess to friends and family for years. She anticipates guests needs and gives them continual attention to make their vacation as fun, easy and as relaxing as possible. She uses her funniest yacht-related incident as prudent advice to first time charter guests: Don't board the dinghy and forget your shoes on the yacht. You will feel quite silly walking around town in a pair of (old/huge) crew flip flops!
Nicole is thrilled to be the chef/stew on MARE BLU, a speedy power catamaran with loads of toys and gear. She is a certified diver, excellent snorkeler and can hook a fish with a keen eye. If guests want a helping hand with their water sports fun, Nicole is ready to assist. Her goal is to help make every charter spectacular, above and below the water line.
BREAKFAST
All breakfast served with fresh breads, toast, muesli, yogurts, eggs to order, a fruit platter, and a Bloody Mary bar.
California Avocado Toast topped with a poached egg.
Smoked salmon atop a yeasty muffin with herb and cheese smear.
Creme brûlée French toast served with Nicole's famous Rum Syrup and crispy bacon.
Quiche made with artisanal blended cheeses and spinach.
Fluffy Buttermilk Blueberry pancakes topped with whipped butter, warm syrup & a side of sausage links.
LUNCH
All lunches served with fresh bread
Crab Cakes Island Style with a sweet and spicy pineapple remoulade.
Beet and Gorgonzola Spinach Salad with candied walnuts and a citrusy dressing.
Fiery Fish Tacos with a crunchy corn salsa and cooling slaw.
Pineapple Grilled Shrimp Skewers over a bed of greens with Ginger dressing
Caribbean chicken salad with fresh fruit and salad greens.
APPETIZERS
Baked Brie with toasted almonds.
Refreshing watermelon mint salad.
Heirloom tomato stack with a sweet balsamic glaze.
Creamy butternut squash soup.
Coconut encrusted shrimp with piña colada dipping sauce.
DINNER
All dinners accompanied by wine pairings.
Lemony Shrimp over a nest of squid ink linguine, dotted with robust cherry tomatoes, served with garlicky crostini's.
Braised pork tenderloin accompanied by infused mash and roasted vegetables.
Seared Tuna with a refreshing wakame salad over a bed of greens with a zesty wasabi dressing.
Grilled snapper with sticky coconut flaked rice accompanied by a tangy mango salsa medley.
Salmon, glazed to perfection, on a bed of savory potato fondants with flavorful local vegetables.
DESSERTS
Sweet gooey pineapple cake.
Warm chocolate fondants.
Rich rum mousse with seasonal berries.
Key lime pie.
Bananas foster cheesecake.
Raspberry Mille-Feuille.
AMENITIES
Air conditioning and fans
Swim platforms with heated deck showers
Onboard Satellite Direct TV (Master Cabin/Saloon/Cockpit)
Wifi and Satellite communications
Bluetooth and ipod/device hookups
Surround sound indoor/outdoor
Hammock
Barbecue
Cockpit ice-maker
WATER FUN
Highfield DL460HYP Tender w/ Honda 60hp
Adult waterskis
Wakeboards, Scurfer, Tube & kneeboard
Floating sun island & mats
1 x 2 person kayak
2 Stand up paddle boards
2 Underwater scooters
Swimming Noodles
Fishing gear
Beach Games
Snorkeling Gear
Underwater camera/video
SPECIFICATIONS
Model: Lagoon 630
Year: 2018
LOA: 64′
Beam: 33′
Draft: 4′
Engines: 2 x Volvo Penta 300Hp
Flag: BVI
Epic Yacht Charters
Average rating:
13 reviews
Aug 15, 2021
Absolutely Wonderful
I've never taken a trip like this, so didn't know what to expect, but it was absolutely wonderful! The boat was fantastic, Antigua is an amazing place to spend a vacation ... but I must say that the crew were hands-down what made the week truly special. Their knowledge and expertise were matched by their gracious hospitality, fun sense of humor, and kind hearts. And they are sensational cooks, as well! I enjoyed every bit of this trip, and they were a big part of it all.
May 31, 2021
Plenty Of Activities
What a great Captain! He was engaged in every aspect of the boat not just driving from spot to spot. And the chef was a great chef and wonderful personality. All of her meals were outstanding in flavor, and the presentation was on point. You will never go hungry with her around. Indy was great as well. We were her first charter, and she handled everything like she had been in the field for months.  Mare Blu was a very nice motor cat. There was plenty of room on the boat for a party of 6-8. The front of the boat did not have a net which made for a lot more room. All of the chaises and cushions were very soft. The beds were very comfortable with very soft sheets which is very important to us. Our itinerary worked our really well. After breakfast the crew would start the day laying out the map figuring our next stop. We were a little worried that we would not be able to get off the boat much because of the pandemic, but this is not the case. There are several places to get off have a walk, drink, or bite to eat. There were plenty of activities to enjoy on the boat. Our son enjoyed the BOB the most. You have about eight different things to choose from, which is more than enough.
Apr 1, 2020
Terrific Trip
Terrific trip with an excellent boat and an over the top crew!
Mar 5, 2021
Incredible Week
We think of you both so often. Once again, we had the most incredible trip with you on Mare Blue. We keep thinking about all of the delicious meals, the incredible swims, snorkeling, paddling, cocktails, sunshine, we are so grateful to you both for all that you do to make it so heavenly for our whole family. Friends for life.
Feb 28, 2020
Absolutely Wonderful
There is so much to say and not enough time. Thank you so very much for making this trip/vacation one of the best we have ever had in our many trips to the V.I.'s Everything was perfect! We loved getting to know the both of you and we look forward to seeing you again. Your level of professionalism, knowledge and attention to detail does not go unnoticed and it is very appreciated. You two are absolutely wonderful and we loved every single second.
Feb 5, 2020
Absolutely Enjoyed The Trip
Thank you to the crew for the above and beyond effort from the very beginning and the terrific "can do" attitude you both have. Our sincere thanks and appreciation for this trip! We had never been to the US & BVI's and had only chartered on a larger motor yacht before so we were a bit nervous. We absolutely enjoyed the charter, the itinerary and the power catamaran.
Nov 23, 2019
Extra Ordinary Trip
I would like to say what an extra-ordinary trip you have made this charter such caring & service oriented people you are & always pleasant, helpful, going the extra mile. The food was fabulous & well presented! The boat was well maintained & the captain made us feel safe & comfortable. The crew was a delight & I enjoyed our discussions. We would certainly recommend this boat & crew to anyone requesting a review.
Jan 26, 2020
This Yacht Is The Whole Package
This was our first family vacation on a boat and also in the BVI. Hands down everyone had a wonderful time. The boat was just perfect. We had a party of 8 that fit very comfortably. The awning upfront with the nets and chairs was just lovely. The cabins were spacious with compartments for everything. You can tell this boat was expertly custom built and appointed. It has a comfortable elegant feel. Sailing in the open water is almost like gliding. Awesome. As much as we all liked the boat, it doesn't compare to the crew. They absolutely made the trip magical. The captain made sure we were taken care of from the moment we left for the boat. He gave us detailed instructions on how to navigate from the airport to the taxi's and boat ferry to get to the boat. When we arrived, he swept us away to a secluded cove and the adventure began. At the beginning, captain and crew discussed options for the week and most importantly they listened to our interests for the vacation. After that, they took us on a journey of a lifetime. The captain's  knowledge and experience was most impressive. We all enjoyed watching him maneuver the boat with ease. His knowledge and stories of the islands were spectacular. It's like he knew every cove and seaway in the whole BVI including the history. The amazing part was he has that knowledge all over the world. It was fun just hearing him talk about other places. The chef kept us all very well feed and happy. From meals to snacks to drinks, it was all first class. Her attention to detail made the trip. She obviously scoured over our preferences to ensure we were all well taken care of. It is a luxury to eat her meals and share her stories. She is full of life and a pleasure to be around. The deckhand. What can I say. He is basically the kindest person I have ever met. He genuinely cares about everyone on the boat. Crew members included. He was always there ready to explore, help and have fun. The Yacht is simply the whole package: service, amenities, food, friendliness, experience and knowledge. Everything you want for a vacation. Spectacular!!!
Dec 26, 2019
Fantastic Experience
The captain was kind, warm hearted, an expert in his field, safety first, a great sense of humor. The food was absolutely amazing! The chef exceeded all expectations of cooking for all of us! The deckhand is kind and on top of things. He's also smart and what a great swimmer! The crew became our friends and we had a magnificent time! Everything was fantastic! Immaculate and clean, spacious, great decor. We had so much fun planning each day with our team. Our kids had a ball and my husband really enjoyed the diving! What a fantastic chef! This was an absolutely unforgettable trip! Not only was the boat amazing, the food out of this world, the team amazing, and the views breathtaking; we learned so much about the BVIs, different cultures and the team we were with. The Yacht is simply a fantastic experience that we will do again with the most fantastic crew ever!
Nov 3, 2019
Trip Of A Lifetime
We had the most amazing time on The Yacht with the captain, the most amazing chef and the deckhand . Thank you for always showing us the "better side" of the islands, secret snorkel spots, catching lobsters, fun on the paddle boards, dancing all night on the Anegada, amazing dinners, etc. This was a trip of a lifetime! And the crew made it even better. It was really something special. My favorite beach was White Ba and my favorite island was Anegada.
Thank you! Until we meet again.The best trip of my life!! In my 18 years I have never had so much fun with such exceptional people. The cooking is to die for!
Epic Yacht Charters provides the most updated information on yachts available but cannot guarantee any details are 100% correct until we verify with the specific yacht.
Similar Yachts