starting at
$56,000/week
British Virgin Islands
67 ft sailing catamaran
Accommodates up to 8
4 Queen ensuite cabins
SCUBA diving onboard
SPECIAL OFFER
Yacht will cover 1(one) land taxi to the water taxi and water taxi to the boat from St Thomas and return with Island Time Water Taxi for any new charter booked for available dates November 15 - December 14, 2023. Not to be combined with any other discount. 6 night minimum.
MT TY is a 2021, 67 ft Fountaine-Pajot Alegria sailing catamaran offering crewed yacht charters in the Caribbean.
MY TY features a flybridge deck and accommodations for up to 8 guests in 4 ensuite queen cabins. With each bed having a 3-inch memory foam topper, luxurious bedding and soft furnishings, you will be sure to have a great night's sleep.
The spacious salon has a modern feel with dark wooden flooring, light walls and ceilings and vast window areas. This space has a large sofa and dining table to enjoy sitting in the air conditioning.
The aft deck space has a beautiful wooden dining table for you to enjoy your gourmet meals while looking out at the wonderful views. The sky lounge hosts the bar area with ample seating and relaxing areas for all your group, along with a dining table. This space is perfect for your panoramic views while sailing or during sunset happy hour at anchor. The foredeck offers more seating space and even a small hot tub.
Chartering in the Virgin Islands, MY TY will explore "Nature's Little Secrets" in style.  Your sailing vacation will be the envy of friends aboard Epic Catamaran MY TY.
*For Rates, see PRICING Tab below – Holiday weeks may differ, please enquire!
Your Crew
CAPTAIN JAMIE & CHEF NYLA
Growing up on the east coast of South Africa, the Indian Ocean was Jamie's childhood playground. His family being avid divers, Jamie was certified as a SCUBA diver from the age of 12.
His teen years were spent racing small monohulls and by 18 he was a SCUBA instructor, as well as an accomplished surfer, free diver, and spearfisherman. Having worked for dive companies throughout eastern Africa, Jamie made his way to the Virgin Islands in 2013. He has since captained a variety of high-end charter yachts throughout the Caribbean. Jamie's love for the ocean and all that surrounds it, combined with years of experience in the area, make him the perfect guide to show you "Nature's Little Secrets".
Nyla's early teens selling produce her family grew at farmer's markets. Sharing high-quality produce always gave her a sense of fulfillment and when she discovered the farm-to-table movement, she was forever hooked on creating a successful career sourcing and serving high-quality ingredients food that raised her. After completing University, Nyla was no stranger to the most prestigious restaurants in Denver CO. Her thirst for adventure and the sea brought her to the Caribbean where she found herself working on a luxury catamaran. Gravitating into the galley on My Ty, Nyla still boasts the same passion, drive, and craving that guided her career on land – if not more!
FIRST MATE & ENGINEER ARIEL
Born and raised in Tortola, Ariel moved to Thailand at the age of 12 where he completed his schooling. He discovered his love for motorcycles at a young age and with the guidance of his older brother, became intimately familiar with engines of all types. He also spent his time competing on the professional skateboarding circuit. He switched his skateboard for a surfboard in 2017 when he returned to his homeland. With his mindset on the yachting industry, Ariel dove right in, joining one of the largest yachts in the territory as a steward, alternating days on the deck with days in the galley where he shared his love of Thai-inspired cuisine. His aptitude for mechanics and ability to learn were recognized early on and soon he had completed his professional engineering qualification and took on the sole engineer role on the 105 ft vessel. On top of all of this, Ariel somehow found the time to qualify as a PADI dive master. The perfect addition to the team Ariel loves to show people the beauty of his home, above and below the water!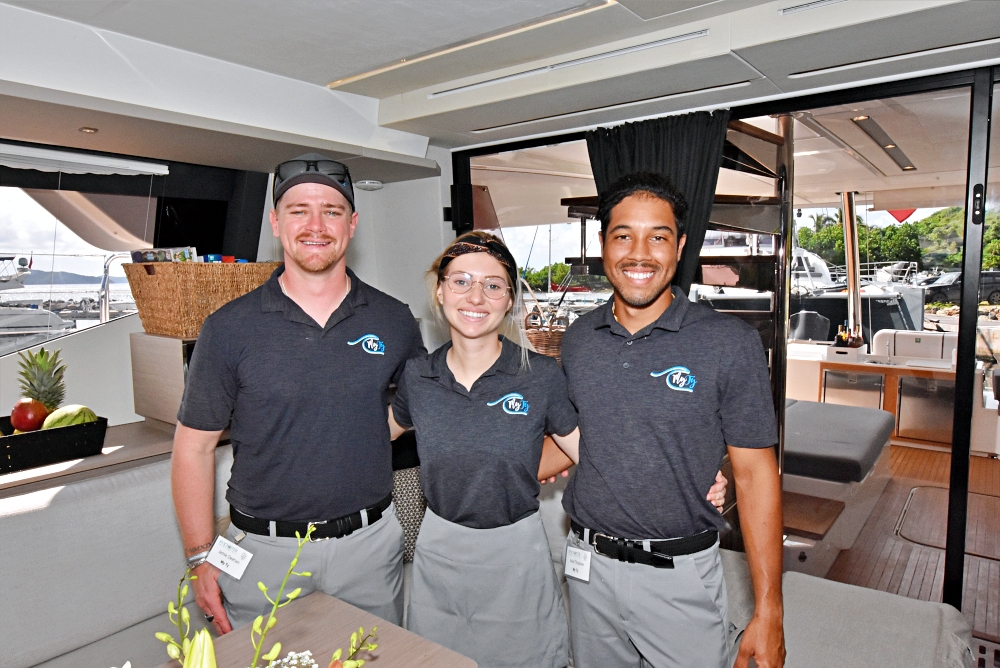 Cuisine
BREAKFAST

Hot potato and chorizo skillet- a melody of diced potatoes and vegetables, mixed with chorizo sausage, topped with shredded cheese, and baked until golden. Garnished with pico, corn bean salsa, and a dollop of sour cream
Eggs Benedict w/ sautéed mushrooms- Two eggs poached in liquid with shallot and thyme laid on seared Canadian bacon over an English muffin drizzled with tangy hollandaise and topped with sautéed mushroom blend
Avocado toast – whole grain Texas thick bread toasted with parmesan cheese blend under a thinly sliced avocado half drizzled with balsamic and lemon, garnished with micro greens
BYO pancakes- your choice of chocolate chips, strawberries, bananas, or blueberries in pancakes with house-made strawberry syrup or maple syrup served with bacon and scrambled eggs
Banana oatmeal smoothies- quick and packed with protein these banana smoothies are made with peanut butter, honey, oatmeal, almond milk, and one whole banana
Spanish tortilla- potatoes and onions fried in a thick scrambled egg and served in little pie pieces. A simple but classic Spanish breakfast
Croissant French toast with berry compote- thickly sliced croissant roll battered in a cinnamon egg wash and seared golden brown. Garnished with a berry compote dusted in powdered sugar with maple syrup on the side
Omelets or breakfast burritos are also available for travel days

LUNCH

BYO Pizza- select from various bases and toppings while the chef tosses your pizza and the captain fires them away in a pizza oven
Open-faced Ruben with house-fermented sauerkraut
Grilled Shrimp salad w/ spicy ginger sauce – shrimp skewers basted with butter ginger sauce served with spring mix, cucumbers, red onion, and a tomato and mango salad with feta
One pot chicken Caprese salad- served family style on a large skillet this recipe consists of seasoned chicken breast, cherry tomatoes, buffalo mozzarella medallions and garnished with fresh basil
Tacos- Fried chicken tossed in buffalo sauce laid on a bed of red cabbage coleslaw topped with pico and garnished with cotija cheese // Strips of marinated steak seared and placed on a bed of red cabbage topped with avocado, pico, A1 crème, pickled jalapeños and garnished with cotija cheese // Grilled shrimp basted with lemon butter and seasoned with ol' bay salt on a bed of spring mix, topped with pico, salsa crème, cilantro, and cotija
Burgers: Your choice of a Jammin' burger- toasted bun, raspberry pepper jam slathered on both sides, lettuce, tomato, feta cheese, caramelized onions, bacon, all on a thick 'n' juicy wagyu burger. // Cowboy burger- lettuce, tomato, onion, cheddar cheese, bacon, and fried jalapeños topped with bbq sauce with that same juicy wagyu burger. // All American burger- classic lettuce, tomato, onion, pickle, American cheese, and slathered with burger sauce served with hand-cut fries
Wahoo and Chickpea Quinoa salad bowl- a base of seasoned chickpeas and quinoa, stacked with red bell peppers, shredded carrots, diced mango, sliced cucumbers, red cabbage, a dollop of hummus, seared wahoo, and finished with feta crumbles

DINNER

Starter: Chilled honeydew melon soup

Fig and sage marinated pork tenderloin with horseradish mashed potatoes, fig gravy, and lemon butter asparagus

Starter: Nasturtium salad

Medium rare duck sauced with a spiced cranberry and orange compote. Served with parsnip purée and roasted pears

Starter: Butter-seared scallops

Mahi-mahi seared skin and finished with butter served with a garlic and white wine sauce from fish renderings on a bed of wild red rice topped with house-made pineapple salsa with a side of charred leeks

Starter: Chilled watermelon gazpacho

Cornish hens spatchcocked and seasoned served with roasted beet and goat cheese salad and golden potato and carrot purée and rendered red wine gravy

Starter: Sea bass ceviche

Fresh Caribbean lobster thermidor served with saffron and pea risotto

Starter: Roasted dates

Filet Mignon cooked to order served with smashed fingerling potatoes, crispy goat cheese and berry compote Brussels sprouts, and a miso sauce
Chicken butter bean yellow curry. House-made curry paste, house-made naan, and plenty of garnish trays filled with cilantro, limes, fresh jalapeños, and green onion to season this already flavor-heavy dish

DESSERT

Blackberry Cobbler- individual and topped with French vanilla ice cream
Berry Tart- whipped mixed berry filling and a walnut date crust
Classic Crème Brûlée with a Caribbean Twist- French vanilla crème brûlée with a hefty glug of dark rum topped with a berry garnish
Warm baby apple pies with a heaping scoop of butter pecan ice cream
Persimmon Pudding served hot with whipped cream and rum raisin ice cream
Baileys panna cotta topped with caramel and coffee crumble
Warm chocolate lava cake drizzled with salted caramel sauce and garnished with white chocolate shards