starting at
$92,500/week
British Virgin Islands
80 ft power catamaran
Accommodates up to 8
1 King & 3 queen ensuite cabins
Green Initiatives
SPECIAL OFFER
Special rates offered for any charter taking place Winter 2023/24 season but booked before December 31, 2023. $80,000/2-4pax $85,000/5-6pax $90,000/7-8pax inclusive.
SÓL is a 80 ft Power ECO Sunreef power catamaran with luxury accommodations for 8 guests.
Launching in 2023, SÓL presents silent luxury and the future of sustainability and technology. SOL's expansive design offers vast bow, cockpit, salon, and flybridge areas equal to yachts twice SOL's length. This ECO Sunreef collects the sun to drive its electric motors for clean power yachting. Carefully selected materials, systems, and practices place people and the planet first. The finest cuisine choices include fully plant-based cruises or the finest of any culinary preferences. Accommodating 8 guests in 1 King and 3 Queen ensuite cabins.
SÓL's social spaces feature comfortable seating areas crafted from natural materials. Wraparound windows frame the light and airy main salon for ocean-view panoramas, which continue in the flybridge above. SÓL's interior blends seamlessly with the outside through aft glass doors that open to an extensive indoor-outdoor living space. Enjoy a soak in the jacuzzi on the sky-lounge.
An amazing crew of four (4) to make your charter experience a memorable one.
*For Rates, see the PRICING Tab below – Holiday weeks may differ, please inquire!
Your Crew
CAPTAIN JACK
Jack was born and raised in Maryland sailing the waters of the Chesapeake. He started sailing as a young boy with his father. He studied at the University of Maryland and served in the US Navy. Jack has a bachelor's degree from the University of Maryland and was trained in the Navy's Nuclear Power Program where he served on Submarines.
After leaving the Navy, Jack worked as a Nuclear Engineering consultant for 14 years during which time he obtained a Master's in Business Administration from Johns Hopkins University. Jack built sea miles in the Navy and did deliveries and passages throughout his years in the corporate world. Finally, Jack decided to fulfill his lifelong dream of being a sea Captain and left the US. Jack sailed, single-handed, across the Atlantic and has completed many other crossings and long-distance deliveries. Jack has also skippered numerous recreational vessels, including day sail vessels, and dive boats, as well as working on Tall Ships.
Jack is passionate about being on the water. He has spent the past 12 years in the Caribbean working in the private yacht industry, running day charters and Captaining term charter vessels with up to 10 guests. Jack is also a qualified Dive Master. Jack has a contagious joy for life. If you are looking for a fun, exhilarating yet luxurious vacation that is exactly what you will get with the SOL team.
CHEF MALLORY (ROTATING)
Mallory (2nd in photos) grew up in Kawkawlin, Michigan spending her summers sailing on the Great Lakes. She graduated from Johnson and Wales University with a degree in Hotel and Restaurant Management and a concentration in Sales, meeting, and event management. After graduation, she managed a romantic Inn in Asheville, NC, and went on to manage and chef in restaurants, catering companies, and restaurant development. She loves to sail, free dive, water ski, scuba, cook and travel. She has been a successful yacht chef since 2013 and obtained her Yachtmaster, Aida 2 Free diving certification, and Rescue scuba Diving during this time.
CHEF SARA (ROTATING)
Sara (3rd in photos) was born and raised on a farm in North Dakota. Although seemingly landlocked she enjoyed spending summers at the family lake cabin in nearby Minnesota. Her parents raised her amongst many friends and family, always entertaining guests. Instilling a warm sense of hospitality in her personality from a young age. Having been raised on a farm, surrounded by agriculture and produce from the garden, her relationship with food has always been an important one. She is passionate about knowing where food comes from, and sources the freshest, locally grown produce and freshly caught fish. With over 6 years of experience cooking aboard yachts, a yacht chef certificate, and a year of cooking privately land-based, Sara is thrilled and ready to welcome guests aboard Sol for a sensory experience.
STEWARDESS BLAKE
Blake (4th in photos) is a native of Minneapolis, Minnesota. She grew up spending time cruising the many beautiful lakes and developing a respect for the outdoors. She graduated from the University of St. Thomas where she studied business management and the Spanish language. With dreams of seeing a different part of the world (and a chance encounter with a group of awesome seafarers while traveling Europe), she would move to Croatia every summer to work as a chef/sole stewardess on small sailing boats, a position she enjoyed for 3 summers. She loved it so much she decided to move to the Caribbean and make it her career.
Blake is elated to now be joining the Sol team. Her pleasant, "Minnesota Nice" demeanor and charming personality make her a wonderful Stewardess, ready to greet and care for guests. She loves to whip up cocktails, share wild travel stories, and will make you feel right at home!
ENGINEER/DECK CAROLINE
Caroline (5th in photos) grew up on the beach in Massachusetts, developing her love for the ocean and sailing as early as she can remember. After receiving her degree from Bridgewater State University, Caroline's wanderlust took over and her passion for traveling began. Eight years ago she moved to St. Thomas and has been working in the charter industry ever since. From day sails to luxury term-charters, Caroline has worked on a multitude of vessels sharing her love for sailing, water sports, and the Caribbean Sea with her guests. Besides Travel and Sailing, Caroline's other great passion in life is Yoga. She received her 200hr RYT certification in Thailand and has been teaching multiple styles of yoga for the past five years. She is thrilled to offer a yoga program and to create custom classes onboard M/V Sol.
When Caroline is not Sailing or doing yoga, she loves to hike, snorkel and create art. As your tour guide, she loves to immerse you in the natural beauty of the islands and share her love of exploring and connecting to nature.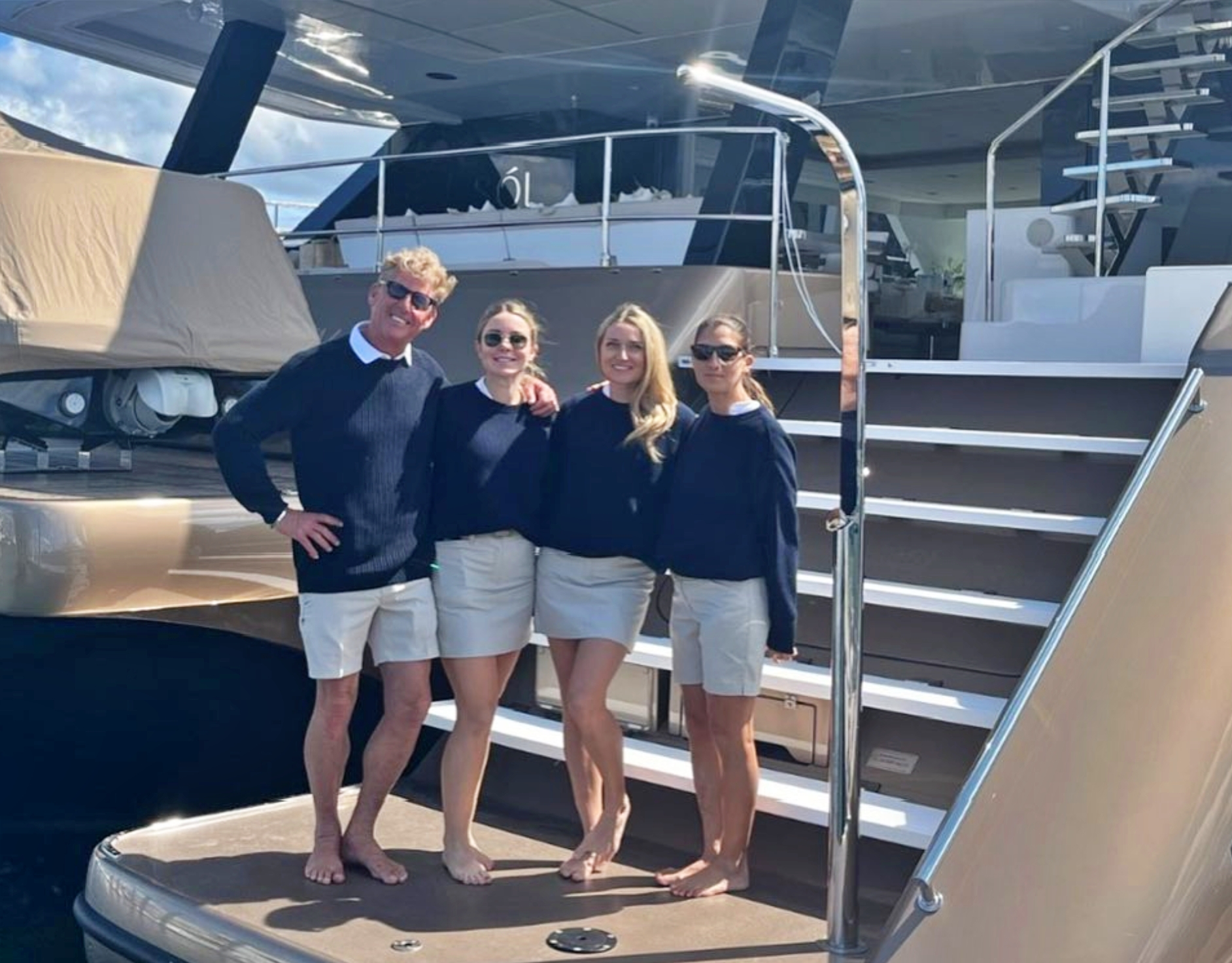 Cuisine
BREAKFAST

Blueberry Buttermilk Hotcakes – Cream Cheese, Butter and Hot Maple Syrup, Graham Crumble, and Sausage
Chilaquiles Divorciadoes – a Duo of Salsa Verde and Mole Rojo, Spicy Chorizo, Black Beans, Sunny Egg, Pickled Red Onion, Queso Fresco, Cilantro
Crab Cake Egg Benedict – Homemade Toasted English Loaf, Blue Lump Crab, a Poached Egg, Paprika Hollandaise
Strawberry Coconut Crepes – Fresh Berries, Slivered Toasted Almonds, Warm Coconut Syrup
Acai Chia Bowl – Berries, Almond & Pumpkin Seed Granola, Almond butter, Coconut Chia, Goji Berries, Agave, Minty Herbs

LUNCH

Fried Chinese Eggplant Bao Buns – Roasted Miso Aioli, Red Cabbage, Cilantro
Thai Shrimp – Grilled Shrimp Marinated in a Chilled Carrot Sauce, Greens, Carrot Ribbons, Orange, Sesame, Thai Basil
Lemon Farro Salad – Warm Farro, Baby Heirloom Tomatoes, Roasted Beets, Micro Arugula, Avocado, Pumpkin Seeds, Herbed Goat Cheese
Soba Salad – Chilled Noodles, Carrot, Cucumber, Mango, Chilies, Peanut Sauce, Macadamias, Local Herbs
Yellow Tail Poke Bowl – Local Caught Tuna Served Raw, Sushi Rice, Edemame, Avocado, Watermelon Radish, Mango, Furikake

APPETIZERS

Maryland Style Crab Cake by Captain Jack – Served with Remulaude and Lemon
Vegetarian Ceviche – Roasted Corn, Red Onion, Avocado, Blood Orange, Grapefruit, Toasted Quinoa, Golden Beet, Corn Shoots
Yellow Tail Tacos – Wonton Shell, Island Slaw, Wasabi Avocado Creme
Shishito Peppers – Blistered, Tossed in Lemon, Chili Flakes, and Avocado Oil, Served on Garlic Aioli
Coconut Shrimp – Thai Chili Mango Chutney

DINNER

Moroccan Spiced Duck Breast – Crispy Skin, Roasted Beetroot, Sauteed Spinach, Pearled Onion,
Roasted Root Veg, Beetroot Pan Sauce
White Bean & Beef Short Rib Ravioli – Slow Braise, White Bean Puree, Edemame, Arugula, Chive Oil
Grilled Octopus – Crispy Fingerlings, Romesco, Lemon Arugula
Butternut Squash Gnocchi – Butternut Faro Bolognese, Parsley Oil

DESSERT

Dark Chocolate Pistachio Tart
Grilled Pineapple – Toasted Macadamia Crumble, Ginger Whip, Lavender Honey
Chocolate Berry Mousse – Hazelnut Ice Cream, Pico Berries, Passion Fruit Sauce
Hibiscus Strawberry Cheesecake – Lime Puree, Lime Curd, Candied Pistachio
Lady Gala Apples – Cardamom Cream, Candied Pecans, Pomegranate Reduction

NOTE: SÓL's onboard chef will create gastronomic feasts focusing on the freshest locally sourced ingredients.
You will enjoy flavorful, exotic, and healthy menus. Each dish will exceed your expectations.
Our chef is additionally trained at the world's finest plant-based culinary institute and can provide gourmet plant-based menus upon request. Our staff will happily accommodate allergens and dietary needs and preferences.