starting at
$23,000/week
British Virgin Islands
50 ft sailing catamaran
Accommodates up to 6
3 Queen ensuite cabins
Ideal for 3 couples
SOUTHERN CHARM is a new design by Robertson & Caine and is an easy platform for charters in the Caribbean.
SOUTHERN CHARM has 3 queen ensuite cabins available for 6 guests. Cabins are modern with lovely soft furnishings and plenty of natural light. Beds are oversized queens with the added comfort of a topper and high-quality linens.
Spacious living areas include a great sky lounge and a foredeck cockpit with access through to the main salon. The aft deck has a wonderful wooden dining table where you can enjoy your meals with a view.
Southern Charm features 4 different social gathering areas which include the forward cockpit seating area, the fly-bridge, the aft cockpit, and the salon area. Enjoy the ability to sit with friends and family or chose to find a quite spot to read your book.
*For Rates, see PRICING Tab below – Holiday weeks may differ, please enquire!

Your Crew
CAPTAIN KEVIN & MATE/CHEF ELIZABETH
Kevin & Elizabeth grew up in the border town of Fort Smith, Arkansas and spent much of their youth on small fish/ski boats on Lake Tenkiller, Beaver Lake and Lake Ouachita learning how to ski and learning how to get your arms ripped off on an inner tube and returning the favor to family and friends.
Kevin and Elizabeth met at the ripe age of 2, yes 2 and celebrate the exact same birthday. In June of 2020 they celebrated 25 years of marriage and adventures. In 2019, the crossed the Atlantic with their 16 year old daughter on a Leopard 25′ sailing catamaran.
The couple attended ASA sailing courses in 2008 and set out on a path to make sailing a big part of their life. Kevin has been a licensed pilot since 1992 and earned his OUPV licenses in 2018.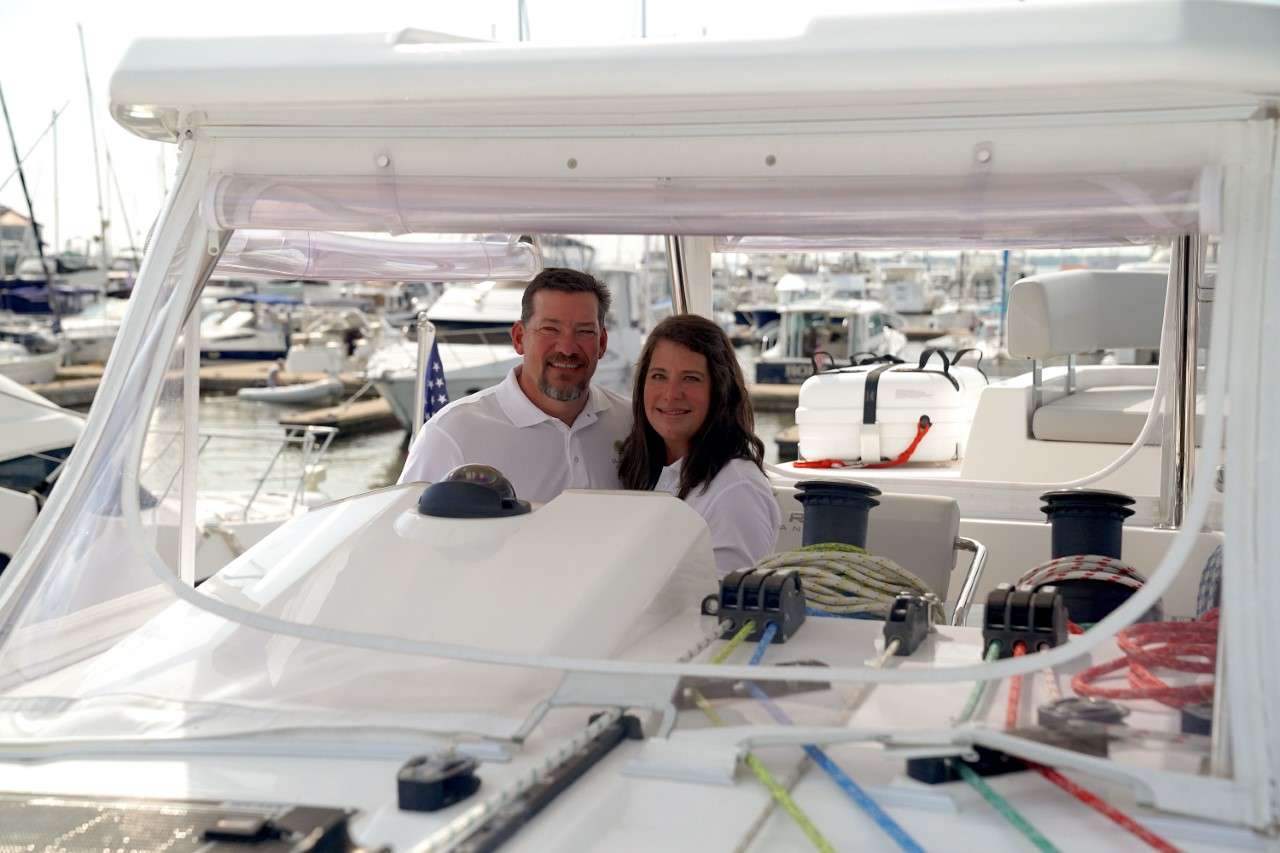 Cuisine
BREAKFAST

All breakfasts served with fresh fruit, yogurt, granola, assorted juices and your choice of any number of cafe style coffees
Coconut pancakes w/ mango & lime syrup
Egg and Peppered Bacon Quiche,Garlic Cheese Grits
Waffle Bar! Fruits, honey, syrup, chocolate chips, sprinkles, Nutella, peanut butter, Fried Chicken
Scrambled Eggs, Candied Bacon, Biscuits,
Eggs Benedict, Broiled Grapefruit
Bananas Foster French Toast
Omelets, Crispy Potatoes, Strawberry Soup, Breakfast Sandwich

LUNCH

Bang Bang Mahi-mahi Tacos, Mexican Black Beans, Street Corn
Banh Mi Sandwich, Spring Rolls, Chinese Coleslaw
Smash Burgers, Potato Salad, Deviled Eggs, Black Bean Salsa
Southwest Chicken Salad, quesadillas, guacamole
Creamy Garlic Shrimp Pasta, Caprese Salad
Mahi-Mahi Reuben Sandwich, plantains
Asians Chicken Salad, grilled pineapple
Lobster BLT's, Cucumber Salad
Chicken Caesar Salad Pasta
Summer Salad with Cumin-Crusted Salmon

APPETIZERS

Ahi Nachos
Shrimp Cocktail
Crab Cakes with Mango Salsa
Lettuce Wraps
Crab Dip
Charcuterie
Gordon's Meatballs
Poke Stack

DINNER

Kabobs, Wedge Salad, Maple Bacon Sweet Potato's
Lobster Beurre Blanc in Fettuccine, Citrus Salad
Perfect Pork Tenderloin, mushrooms, Herb New Potato's, Salad
Flank Steak with chimchuri, Twice Baked Potato, Doe's House Salad
Mahi-Mahi with Thai Coconut Curry over Rice
BBQ, Ultimate Mac N Cheese, Cowboy Baked Beans, Slaw
Fillet Mignon with Mustard Cream Sauce and Mushrooms, Lobster Risotto, Caesar Salad

DESSERT

Southern Banana Pudding
Key Lime Pie
Chocolate Cake with Homemade Basil Ice Cream
Bananas Foster
Pound Cake with Strawberries
Frozen Chocolate Mousse
Captain's Creme Brûlée