starting at
$47,300/week
British Virgin Islands
76 ft sailing catamaran
Accommodates up to 10
1 King suite and 4 queen ensuite cabins**
SCUBA diving onboard
ZINGARA's name comes from the legend of Countess Zingara, which is Italian for Gypsy woman, who had a life of notoriety and tragedy wandering Africa.
ZINGARA is a Matrix 76 ft sailing catamaran ideal for large groups or two families. There is a giant open-air flybridge for additional space that even has an outdoor Jacuzzi! 10 guests are accommodated in 1 King stateroom, 4 queens. **One queen cabin that can be changed to 2 twin beds. All sheets and blankets are new, and you can enjoy luxurious comforters and bathrobes. Lounge in the steamship recliners on the sky lounge.
The forward-facing master suite occupies most of the width of the yacht and boasts a spa tub for ultimate relaxation. In addition to the standard water toys, there is a Hobie Cat on the yacht which guests can enjoy. ZINGARA is crewed by an energetic crew of 4, Captain, chef, mate & stewardess.
*For Rates, see PRICING Tab below – Holiday weeks may differ, please enquire!
Your Crew
CAPTAIN HUGH & CHEF MAXIME
Growing up in Pretoria, South Africa Hugh (right) spent his youth on the water where his passion for water sports and sailing emerged at an early age. He is an avid fisherman and is passionate about life on the water.
Upon graduating, Hugh went straight into yachting and completed a Mediterranean season in France where his interest in the industry grew.
Followed by a 12,000 nm delivery which included two Atlantic crossings and sailing up the east coast of Africa, Hugh's enthusiasm for sailing, fishing, and diving only increased and flourished.
Hugh spent two years sailing through the Caribbean as the first mate where he worked on a catamaran that spent most of its time chartering in the British Virgin Islands, with this experience he is extremely knowledgeable on the best locations for making your charter unforgettable.
He looks forward to welcoming you on board and creating the trip of a lifetime.
Maxime (left) Born and raised along the coast in the Eastern Cape of South Africa – Maxime thrived as she came to realize her love of the sea.
After completing a Hospitality Management degree and working a further 3 years in various luxury environments, she finally combined her passion for the ocean with the experience gained and grew her skillset to work in yachting and explore the rest of the world.
She started her career as a sole stewardess on a sailing yacht in Monaco and began her first circumnavigation, embarking on an extraordinary adventure sailing the world. Following this, she joined the Oyster World Rally, also participating in the Oyster Antigua Regatta which really ignited her passion and love for sailing.
Having done a circumnavigation while first working as a stewardess and then becoming a chef, she has prepared food in various parts of the world and therefore her cuisine is beautifully diverse and influenced by global flavors.
During her career she has sailed over 50 000 nm thus far, sailing through the North and South Atlantic, the South Pacific, the Indian Ocean, the Mediterranean, and the Caribbean Sea. Maxime is a vibrant and positive individual, whose caring attitude shines even while working under pressure. She strives to create a guest-centered environment, catering to your needs and specific tastes.
She looks forward to having you onboard and satisfying all your culinary needs.
DECKHAND & DIVE INSTRUCTOR JAMES
Originating from the south coast of England, James (left) has never been too far from the ocean. After being taught how to scuba dive by his father and gaining an overwhelming urge to see the world, James traveled to Thailand to become a scuba instructor where he would spend the next 5 years mastering his craft.
To gain a better understanding of the diving industry, he then moved to places such as the Cayman Islands, Barbados, Bahamas, and Mexico where he would gain much experience and simultaneously, realize a love for the Caribbean as well as, discover a real sense of adventure that would be working on boats. James has set a goal of becoming a captain and one day owning his own boat.
STEWARDESS & DIVE INSTRUCTOR ERIN
Erin (right) was born in Mexico City and moved to Europe when she was 13. She obtained a degree in Hospitality and Business Management in Valencia, Spain. After spending a few years working in the hospitality industry, she embarked on a journey to Japan to spend a year in a silent Buddhist monastery where she learned to connect with nature which in turn, helped her decide on her next venture: moving to Thailand and starting a career in the scuba diving industry. Once she became an instructor she worked in different countries sharing her love for the ocean. She is now combining her two passions while working in the yacht industry and being a part of Zingara's crew.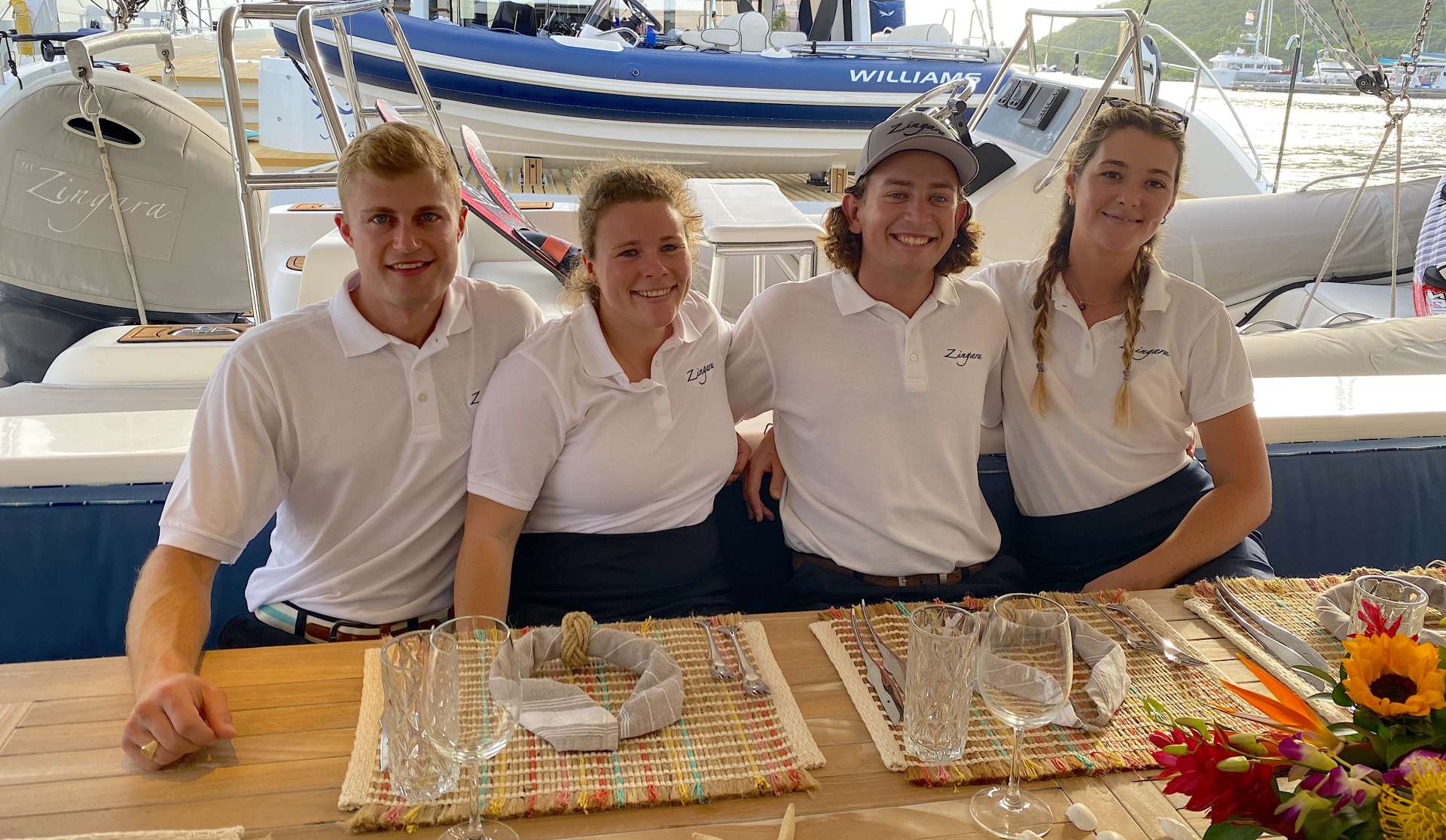 Cuisine
BREAKFAST

Seasonal fresh fruit salad, homemade granola, and freshly squeezed juice
Warm crusty Cobb loaf, breakfast muffins
Selection of jams and homemade Seville marmalade
To Order:
Eggs any way
Smoked salmon, cream cheese, and capers on a toasted bagel
Sweet or savory crepes
Avocado/Mushroom toast, roasted cherry tomatoes, balsamic reduction, and rocket
Eggs/Portobello Benedict or Florentine on a toasted muffin
Traditional English breakfast, eggs any way, Bacon, sausage, hashbrowns, sautéed mushrooms, roasted vine tomatoes, and avocado

LUNCH

May be served as individual plates or buffet style
Smoked salmon and leek quiche, summer greens
Chimichurri Sirloin, heirloom tomato salad
Sous vide chicken Ceaser salad
Roasted black bean burgers, mango and tomato salsa, cajun wedges
Fresh local fish en papillote, tomato, and herb buckwheat salad split dressing, and poached egg
Salmon fishcakes, roasted butternut, and pomegranate salad
Garganelli pasta with chorizo and peas

APPETIZERS

Smoked salmon blinis, chive, and cream cheese
Mushroom, spinach, and goats cheese Vol-Au-Vents
Roasted and stuffed prosciutto wrapped fig
Stilton and chutney rarebit on rye
Devils on horseback peppered blackberry sauce Bruschetta with ricotta, quail eggs, and chive
Charcuterie: A selection of local meats, cheeses and olives, chutneys, and artisan bread

DINNER

Beef Wellington, sautéed kale, potato fondant, and rosemary jus
Local fresh fillet, asparagus bouquets, saffron rice, and lemon white wine sauce
Fillet steak with Cafe de Paris butter, cauliflower puree, carrot en papillote, and sweet and smoky potato wedges
Sous vide duck breast, potato dauphinoise, braised red cabbage, and passion fruit sauce
Butternut squash, leek, and ricotta lattice pie served with dressed leaves and new potatoes
Pork tenderloin, orange and brandy cream sauce, sweet potato puree, tender stem broccoli Fresh grilled prawns, mushroom and truffle risotto

DESSERT

Chocolate, rum truffle torte, fresh cream, and berries
Tropical Eton mess, lemon curd cream, and passionfruit sauce
Spiced apple crumble, custard, and vanilla bean ice cream
Tiramisu, blackberry compote
Raspberry and whiskey cream pots, homemade shortbread, and fresh cream
Irish cream chocolate mousse, chocolate art, and baby bushwhacker
Lemon Tart, berry coulis, mirangue pieces