Enjoy some fishing on your Luxury Charter Yacht Vacation
Why not enjoy some fishing on your crewed yacht charter? Some of the charter yachts offer fishing, so please check with us when you book. Deep-Sea Fishing from your yacht can be very entertaining and lots of fun when you land the "big" one! There are a few things to know before you start.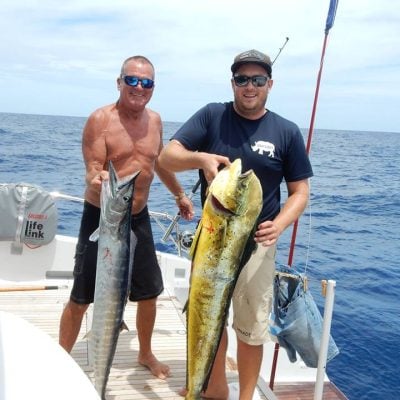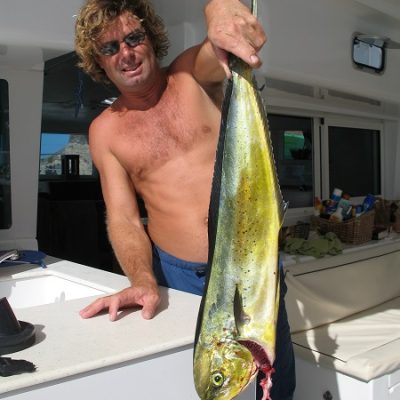 WHAT TO CATCH?
There are over 300 fish species in and around the pristine waters of the Virgin Islands. You can either fish from the stern of the vessel with a hand line or fishing rod with bait or trawl your man-made lure while sailing offshore. In deeper waters, it is possible to get sailfish, marlin, tuna, mahi-mahi, king mackerel, wahoo, jacks, or barracuda. Around the anchorages, one can catch snappers, groupers, triggerfish, Spanish mackerel, bar-jacks, and a variety of smaller fish. Bone-fishing is very popular on the shallow flats near islands, especially in Anegada where you can rent gear and also a professional fishing guide.
It is advised to catch and release unless you know the fish you catch is safe to eat. Please check with your crew for guidance. There is a poisonous disease in certain fish called Ciguatera and is a food-borne illness (food poisoning) caused by eating fish that is contaminated by ciguatera toxin. Ciguatera toxin is a heat-stable lipid-soluble compound, produced by dinoflagellates and concentrated in fish organs, that can cause nausea, pain, cardiac, and neurological symptoms in humans when ingested.
For this reason, we highly recommend that you check with your crew.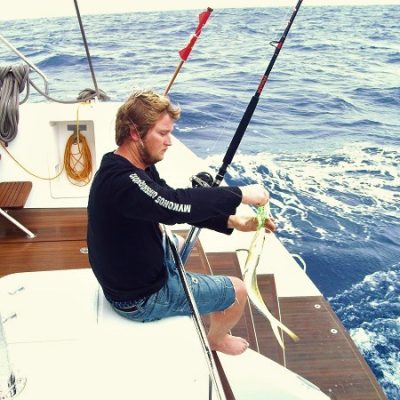 SOME FISHING GUIDELINES:
Every person holding a fishing device must have a fishing permit.
Persons younger than 18 years of age do not require a permit.
No spearguns or diving equipment may be used to fish or gather.
PLEASE NOTE!
Fishing is ONLY allowed in the US Virgin Islands and NO longer in the British Virgin Islands currently due to Government changes. I Will update when available.
We suggest that you do some fishing (reef and trawling) outside of the National Parks. Your crew will advise when you can dip the line in!
No permit is required when you sail between the US and BVI's.