Epic Yacht Charters is expanding our sailing destinations and with our knowledge of the Exuma Cays in the Bahamas, we have found the best spots for you and your friends and family to enjoy your next amazing vacation in paradise. We have sailing and power yachts with a professional crew to charter week-long trips up and down these perfectly clear waters, calm anchorages, great snorkeling and diving, and of course pristine beaches.
These laid-back and uncrowded cruising waters are absolutely ideal for island hopping and exploring long stretches of pristine beaches when you charter a private fully crewed sailing or powerboat. Just like the Caribbean, we suggest an itinerary and anchorages that we recommend to make your Bahama vacation unforgettable.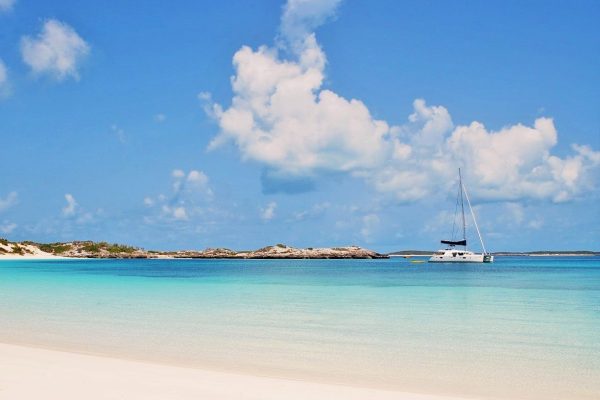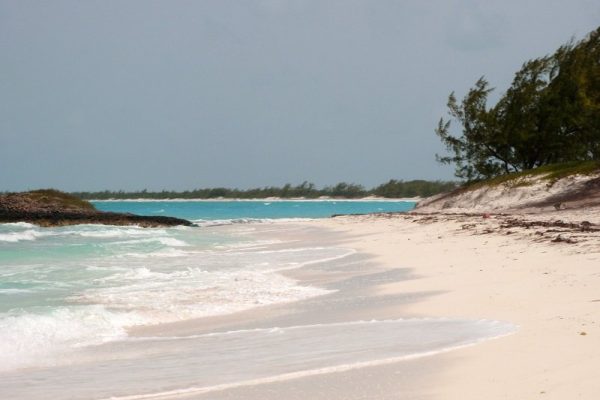 With favorable weather year-round, these islands have become very popular over recent years and more clients have asked about other destinations. Winter is a little cooler with temperatures ranging between 70-75F September to May and anchorages are generally less crowded, but the aquamarine waters and the deserted beaches provide for a beautiful private breakaway. Summer is warmer and average around 80-85F with the steady tradewinds blowing all day long making sailing a pleasure. Due to the North-South layout of this exotic chain of cays, it makes sailing up and down the Exumas very desirable and there are always protected anchorages. The islands are not too far apart and you can spend lunch at one island and spend the night in another bay that same day.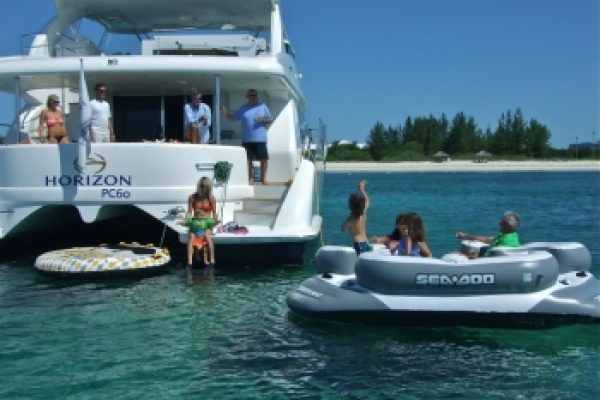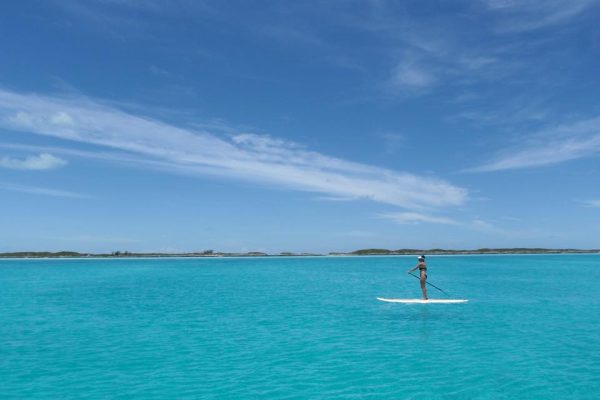 Here are a few of our favorite spots recommended for you to visit on your charter. Find a sample itinerary on our website. Your trip can start anywhere, from Nassau, the Capital of the Bahamas, Staniel Cay Yacht Club, or Georgetown further South along the island chain.  Along the way, there will be plenty of opportunities to visit some shore establishments. Of course, depending on your start and end location, you can discuss options with your captain upon arrival. Here are a few "must-see and do" options.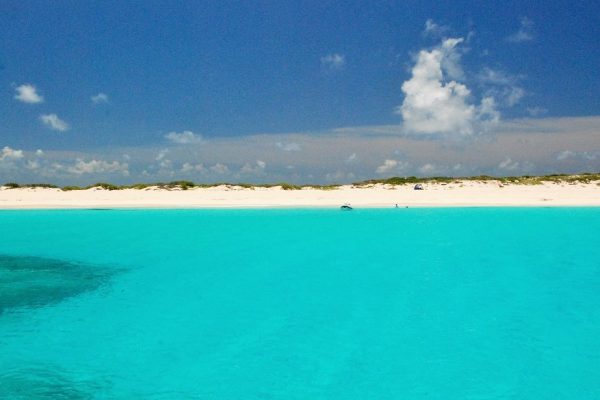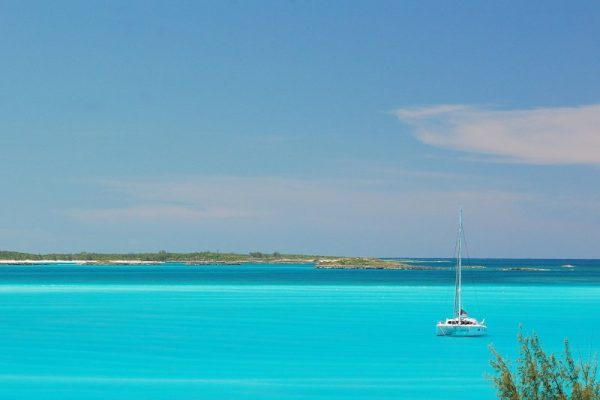 Staniel Cay Yacht Club: This is a famous yacht club in the Exumas and offers everything from overnight dockage, freshwater, fuel, restaurants, bar, and also the local airstrip. Watch the Nurse Sharks swim right under the dock where the fishermen clean their catch and will be served fresh in the restaurant. Local beers wait in the bar where there is also sport on the TV's and a pool table. The dive center can fill your dive tanks and other tours can be arranged here.
The "Pig's Beach" on Great Major Cay: Swim with the pigs on the beach of Big Major's Cay in the morning and watch as they swim out to the dinghy begging for scraps. Chickens can also be found roaming the beach. Boats anchor near the beach and even seaplanes beach here to watch the piggies swim.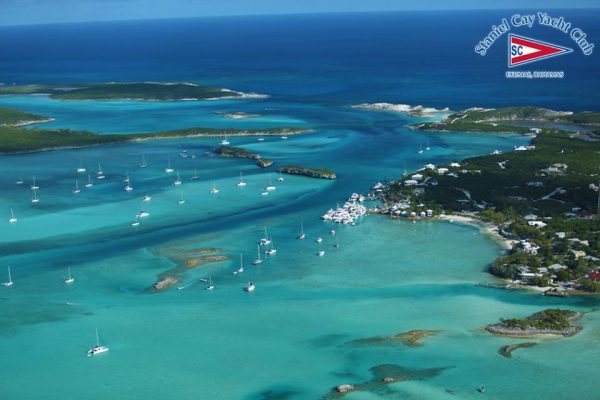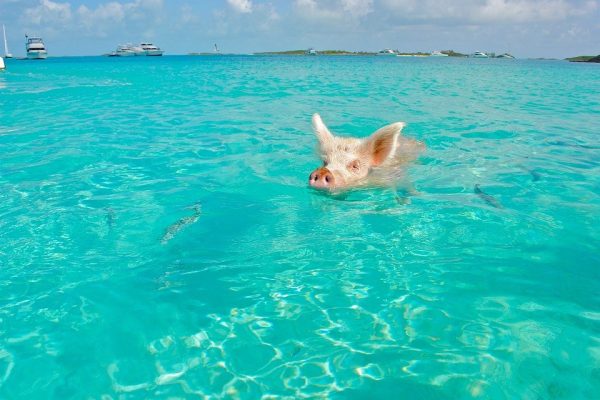 The Thunderball and Rocky Dundas caves: Snorkel into the cave where the sun shines through a hole from above. The movie "Thunderball" with James Bond was filmed at this famous cave. Make sure to go at slack low tide as the current can be tricky during mid-tide.
Compass Cay Marina: Take the tender in or dock for the night at this marina on Compass Cay and enjoy the bar right on the dock and see the Nurse sharks swim right by. Trails to hike take you to remote beaches on the other side of the island where the waters crash on pristine white sandy beaches.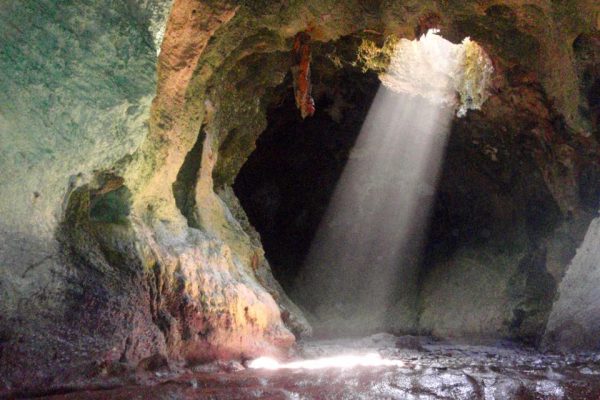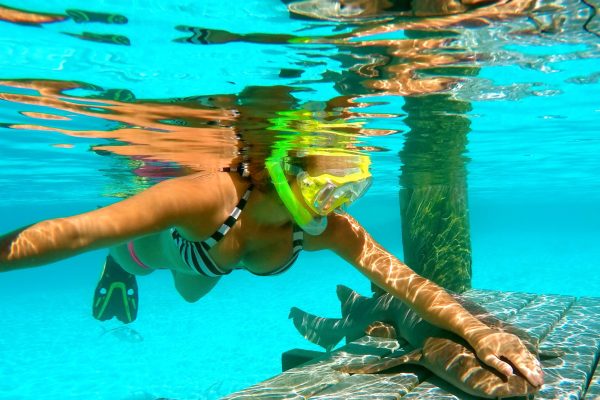 Norman's Cay: Once at anchor on the Northside of Norman's Cay, enjoy snorkeling or diving sites like "Octopus Garden" and "Hammerhead Gulch". Spectacular beaches and lagoons with colorful fish and coral make this island special. There are also ruins and a sunken plane from the drug smuggling days of famous drug lord Carlos Lehder.
Allan's Cay: Iguanas pretty much run this tiny island on the Northside of the Exuma island chain. Calm anchorage and beautiful blue water to swim in and see the Iguanas. They are tame and very keen to welcome you when you land, hoping that you bring them a fruit snack.
There are so many diving sites in the Exuma Cays. Some yachts offer diving and diving lessons. Please ask before you book.
Contact us today to book your next vacation in the Bahamas. Flights are frequent and the Bahamas is suitably located near the Continental US.