Looking for a fun eating and drinking experience on your unforgettable charter yacht vacation in the Virgin Islands?
Lime Out and Pizza PI have been invented to serve good food and drinks AFLOAT! Your private charter yacht will anchor or moor near these cool floating bars/restaurants and you can swim, paddle, float, snorkel or take the dinghy and enjoy a fun outing!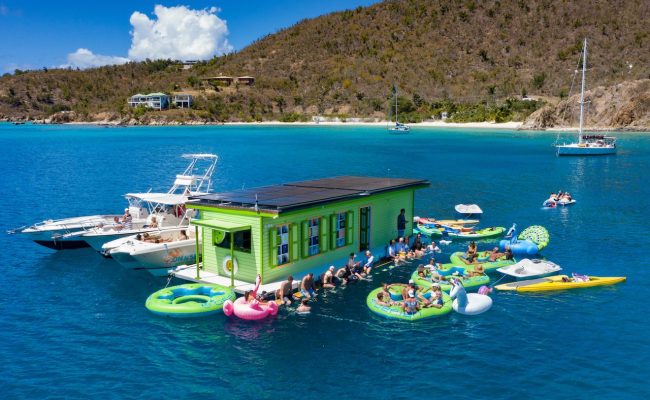 LIME OUT is a floating taco boat located on the South East side of Saint John in Coral Harbor. The simple combination of tasty tacos + the salty sea makes for, as we like to say, the 'best day ever.'
We invite you to enjoy a delicious taco + handcrafted libation among the natural serenity and scenery of St. John in the US Virgin Islands. Lime Out opened on March 12, 2019, in Hansen Bay on the gorgeous East End of St. John. Now our sweet, green, Caribbean-style cottage on pontoons serves delicious fresh tacos and thoughtful creative cocktails to the adventurers who come to see us! Lime Out was created to fill a void in USVI marine tourism and we are thrilled every day to be keeping business in the USVI, providing a lunch destination for those choosing to enjoy our local waters.
Don't miss out on this cool chill-out green zone. Swim in, paddle-in, float on mats, just make it there…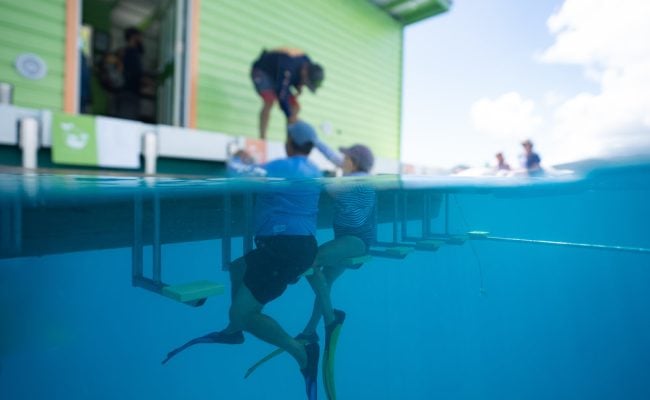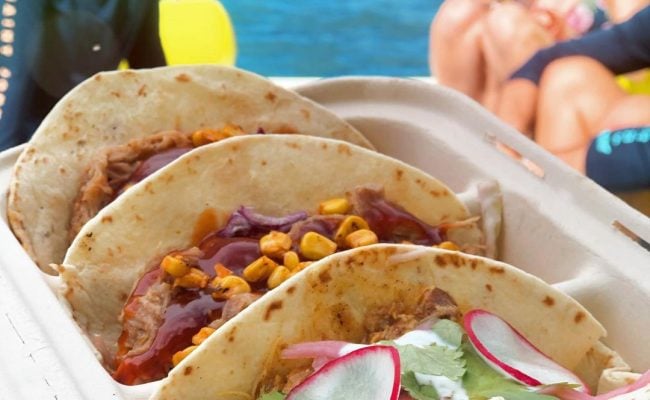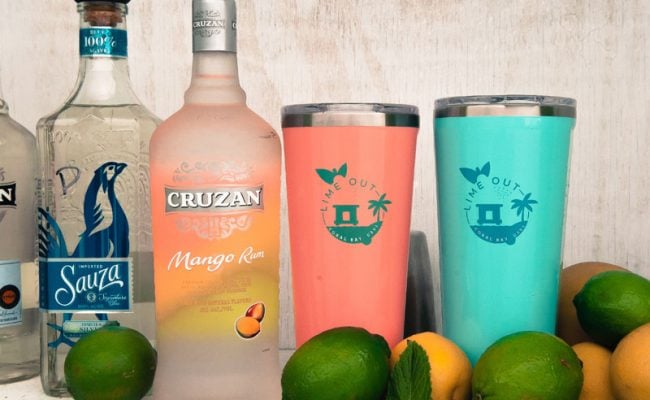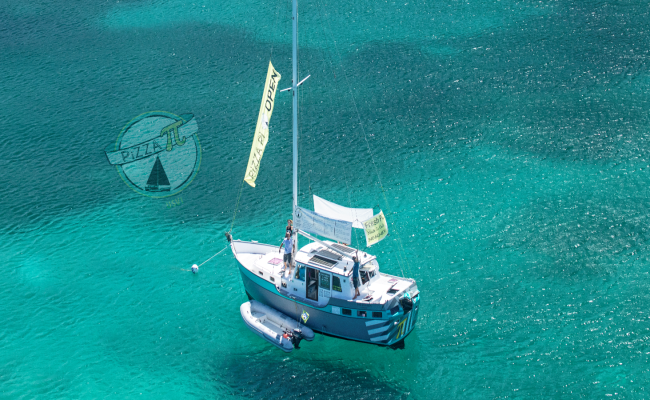 Nestled in Christmas Cove, a protected bay accessible only by boat in the US Virgin Islands, PIZZA PI serves up fresh NY style pizza while you snorkel with reef fish, turtles & the occasional dolphin. This is more than just a tourist stop, this is the best pizza in the Caribbean. Pizza is served hot right from the stern of the boat, so line up in your dinghies!
A brief history: In 2012, Sasha and Tara Bouis (our founders!) hatched the idea for their pizza boat – a 100% custom vessel that brings authentic NY style pizza to the waters of the US Virgin Islands. A side note: (While we were still crew, we watched this dynamic couple spending hours on end to complete the boat ready for launch). After three years of searching for the right hull, they found a G.L. Watson designed, the thirty-seven-foot-long aluminum motor sailor that had been abandoned in Antigua for almost a decade. The yacht's interior had been devoured by termites, leaving a huge mess, but also a blank canvas. The couple knew she was perfect from the moment they looked into the vessel's stern. Sasha and Tara bought the shell of the boat and spent two years building the interior. Pizza Pi splashed down into the waters of the Virgin Islands in November of 2014.
In 2018, having established Pizza Pi as an iconic attraction in the Virgin Islands, Sasha and Tara decided to move on to the next step in their journey together and sold Pizza Pi to new owners. Heather and Brian Samelson have picked up the mantle established by Tara and Sasha of bringing the popular stateside phenomenon of food trucks to the Virgin Islands in the form of a family-friendly, classy, maritime dining experience that also reflects the funky, unique vibe of the islands.
Today, located in Christmas Cove, Pizza Pi has served thousands of pizzas to hungry boaters for over six years. Ranked among the top restaurants in the US Virgin Islands according to TripAdvisor, Pizza Pi should be a must-visit on your next trip to the Caribbean.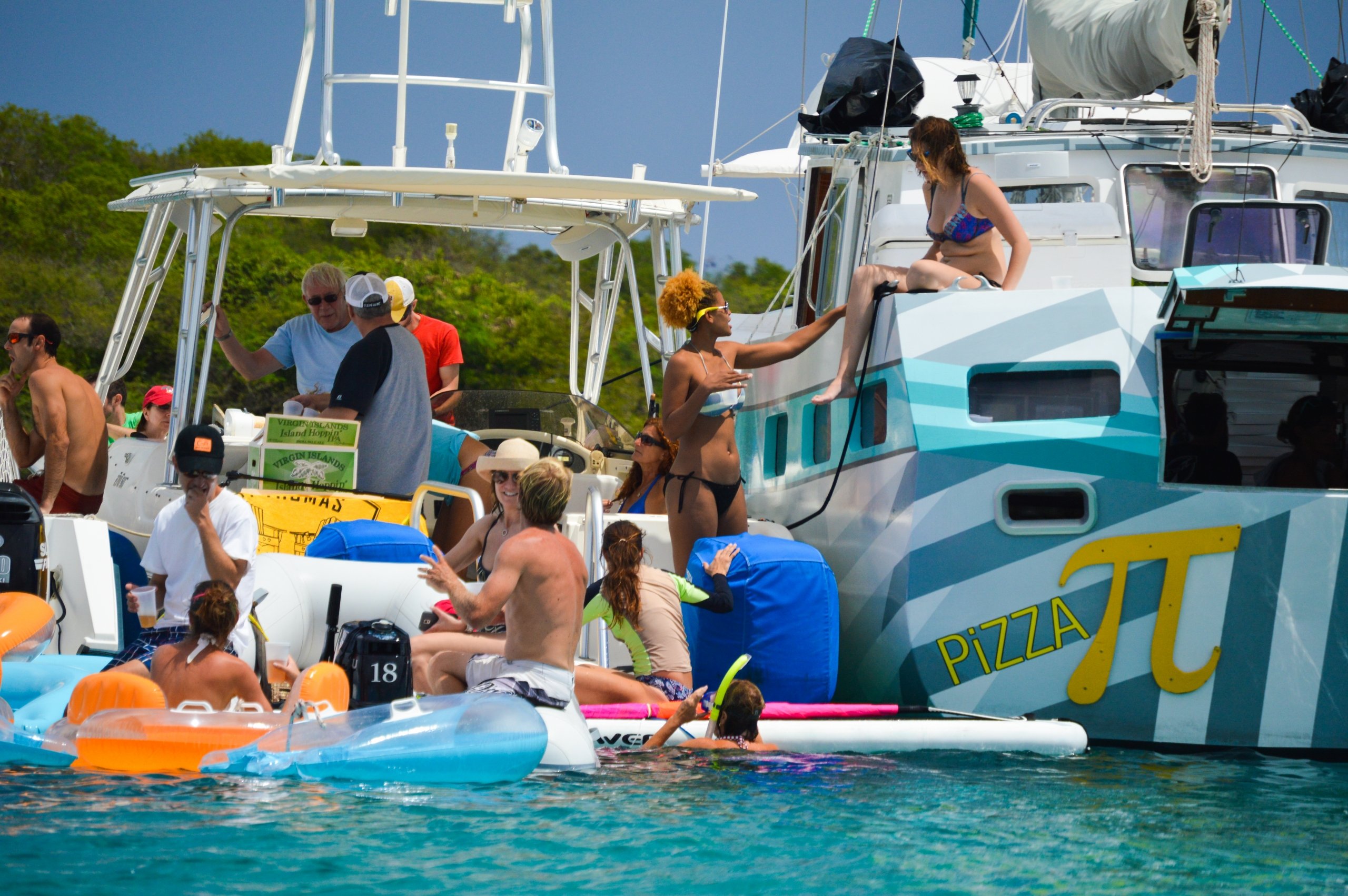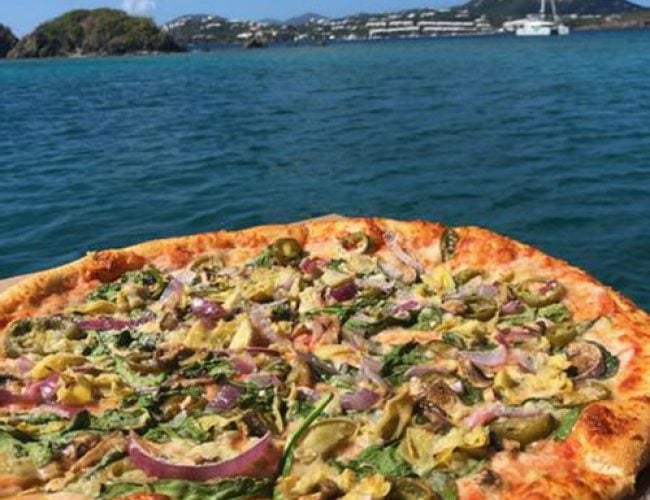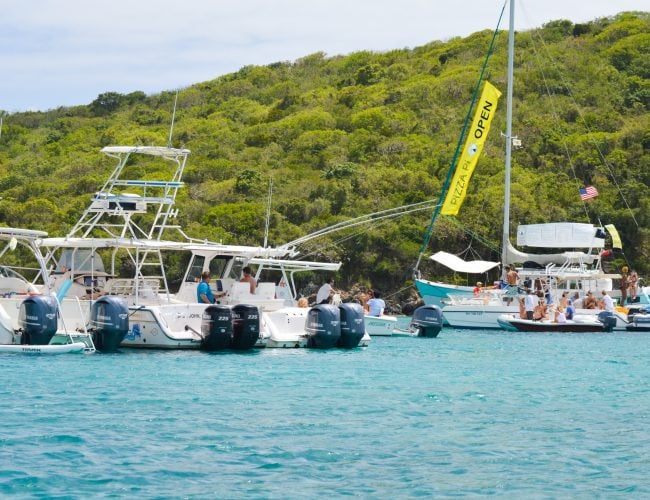 To learn more please contact the friendly & knowledgeable team at Epic Yacht Charters to get onboard a luxury Sailing or Power charter catamaran. Your Private Water Taxi or Tours can be arranged.
Contact Us NOW for availability and a personalized quote!  While our service is priceless, it is always complimentary.
Email us: [email protected] Call us: (954) 543 1270 or LiveChat with us on our website and ask as many questions as you want. Thank you and wishing you Epic Adventures from Team Epic!