Let Epic Yacht Charters Customize Your Next Unforgettable Caribbean Yacht Vacation And Leave The Planning To Us. Here Is A Sample Of What To Expect On Your All-Inclusive Charter Yacht Vacation.
Belize Central/Southern Sample Itinerary
Day 1
Bluefield Range
After a welcome orientation and safety briefing, you will sail to Bluefield Range. Bluefield Range is a mangrove cluster teeming with wildlife which makes for a fantastic kayaking and snorkeling destination. Kayak through the tiny channels, look out for manatees and even take some bait and a fishing line and see if you can catch dinner. If you prefer to just chill out on the boat and enjoy the fresh air after your flight and transport, relax on the flybridge with a Captain's cocktail. Depending on the weather and sea conditions, all your dreams will come true on an Epic Charter Vacation.
 Day 2
Tobacco Caye
After the sun rises over the barrier reef, you will be sailing South to Tobacco Caye. This 5 acre palm-fringed coral island is perched on the barrier reef, which makes this gem a great place to snorkel or dive from the shore and its central location means it is within 10 minutes by boat to some of the best snorkel sites in all of Belize. There are a couple of small laid-back resorts and a tiny beach bar serving fresh coconut water and icy cold rum cocktails with hammocks to lounge in. 40 local islanders call this rock their home and it is a great place to learn about their remote island life and island time lifestyle.
 Day 3
Southwest Caye, Glovers
The Southernmost atoll, Glovers Reef is a minefield of patch corals and Epic marine life with a scattering of tiny islands that sit on the outer reef. Southwest Caye makes for a great anchorage as there a huge uninhabited perfect white beach with a backdrop of coconut trees (it was once a plantation) and since it lays on the leeward side of the island, there is not a spec of ocean debris, just a few fallen coconuts and unspoiled white sand. The island is split in two, the Northern part is home to Isla Mirasol Dive Resort where you are welcome to explore and enjoy a refreshing cocktail in the over-the-water wooden bar. This islands offer incredible views.
 Day 4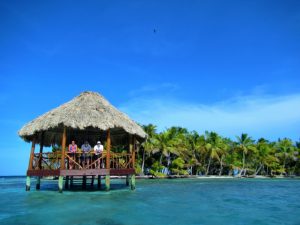 Middle Caye, Glovers
After breakfast you are welcome to spend most of the morning snorkeling (Scuba diving can be arranged with Mirasol Dive Shop). Being a designated National Marine Reserve and World Heritage Site, there are approximately 700 pristine patch reefs brimming with the richest variety of marine life in the Caribbean – Snorkelers and Divers alike are enchanted by the vast and endless spectrum of sea-life here. Cruise up to Middle Cay, a wilderness zone with a marine research station run by the Wildlife Conservation Society open for visitors to explore.
There are some interesting displays explaining the ecology of the atoll and T-shirts for sale to support the conservation efforts. Take a walk down "Hermit crab alley" and look out for the resident Ospreys!
 Day 5
Long Caye & Sittee River
After an early morning of snorkeling we visit Long Caye, the home of Off the Wall dive resort. This is a remote, secluded, environmentally friendly private owned island paradise. Visitors are welcome to explore and learn about their eco-practices and call in at the gift shop which has some of the most authentic and boutiquey treasures in Belize. The island is also home to Slickrock Belize Adventures, a water-sport haven. If you would like to try Kite-boarding or Scuba diving, the crew will arrange lessons, subject to their capacity.
Spend the early afternoon motoring or sailing to Sittee River. Meander up the river where the contrast from ocean to jungle is breathtaking. It is possible to explore the sleepy seaside village of Hopkins in the afternoon which has rich cultural routes with the "Garifuna" population. After dark, venture into Bioluminescent lagoon which lights up like a cosmic bath of stars as you glide through the waters. A once in a lifetime experience!
 Day 6
Southwater Caye
In the morning after a scrumptious breakfast, sail to Southwater Caye, a pristine 12 acre private island that is one of the most beautiful and exclusive island in Belize. Southwater Caye sits on the reef on the North side of South Water Cut, which is a quarter mile wide gap in the reef. Grunts, black groupers, snappers and moray eels all hide out in the overhangs and make for a spectacular snorkeling experience. Head to the Blue Marlin Lodge, one of our favorite little bars in all of Belize for an icy cold Belikin Beer and game of pool or watch the pelicans gather as the fishermen return and clean their catch for dinner.
 Day 7
Rendezvous Caye
This tiny private island located right on the Barrier Reef has a collection of palapa shades, beach loungers and hammocks. This is the perfect place to just relax or enjoy a beach picnic. You can snorkel along the deep water right from the shore and experience the contrast of deep sea and shallows of the corals. Look out for the graceful spotted eagle rays, there are resident rays always looking for scraps from the catch of the day.
 Day 8
Return to the marina
Enjoy a leisurely sail back to the marina at Old Belize. From here you will be able to take transport arranged by your crew to the airport or another exciting resort if you prefer to stay in Belize just a little longer. Excursions include tours to the Mayan ruins and lazy river floats in groups along the caves. Say goodbye to your crew and plan you next Epic charter vacation!
Sample Itinerary
Having a hard time visualizing your crewed yacht vacation?
Take a look at a 7-day sample Belize itinerary to start
planning your trip.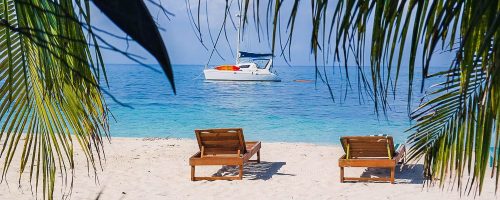 "Must Sees" In Belize
While everything in Belize is stunning, there are a few
things not to be missed. Take a look at our favorite anchorages,
restaurants, beach bars and shore excursions.