Have you thought about a luxury crewed yacht charter in Greece? Our Greek Yacht Charter Specialist, Kerry, attended the Mediterranean Boat Show and went onboard our favorite yachts to inspect and meet the crews. Kerry then spent a few days on sailing catamaran Hydrus.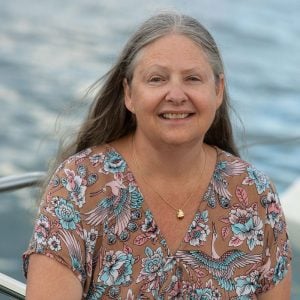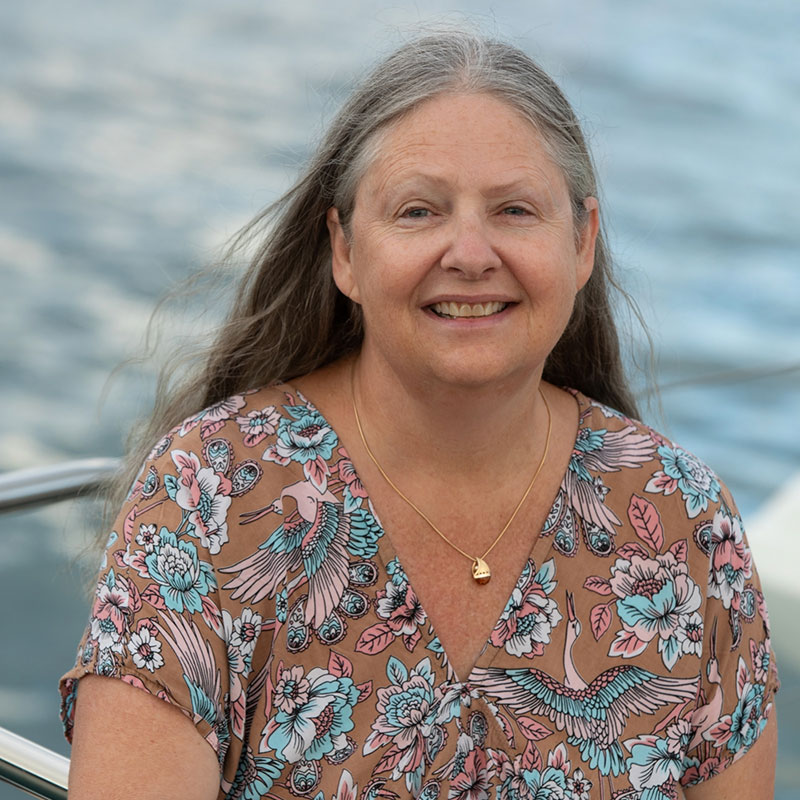 After Viewing 90 yachts in both Nafplio and Poros, it was time for us to board our familiarization trip for a few nights to get an idea of what you can expect on your crewed yacht charter in Greece.
I was very lucky to have the master cabin, for our trip, onboard a brand-new catamaran called Hydrus. It was my first time on this new Lagoon 55' 2023 model. It's amazing how the capacity and volume increase with each new model that is released. I never realized a 55' catamaran could have so much space! Our Yacht easily slept up to ten guests with 5 Queen Cabins, one of which can be a Queen or twin bed. Our crew of three, Captain George, Chef Charalambos, and Hostess Judit, were a delight to spend time with during the next few days touring the Greek Islands.
Day 1 
After arriving in the charming town of Poros, our crew welcomed us onboard with a refreshing drink and lunch. After a yacht orientation and safety briefing, we set sail on our charter itinerary to the small picturesque coastal town of Palaia Epidavrios, based in the Peloponnese's region. The city is also called Archaia Epidauros and stands on the exact location of the ancient city of Epidauros, nestled on top of a small peninsula surrounded by two bays.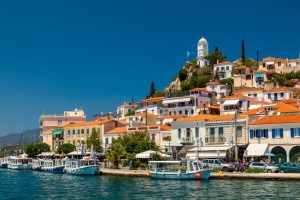 After lunch onboard, there was time for a quick swim before heading towards the quaint village of Palaia Epidavros. Here we had an opportunity to visit the Ancient Theatre of Epidaurus. The ancient theatre is considered the best preserved in Greece because of its perfect acoustics; if you drop a coin in the center, someone can hear it from the highest seat. 
The theatre can hold up to 14,000 people and is near the ancient sanctuary of Asklepios, named after the God of Medicine. The entrance has large Corinthian Pillars, and the ruins of the old stage are visible beyond the circle. The theater is still used today for ancient Greek performances during the annual Hellenic Festival. I spent several hours walking over the extensive grounds dreaming of days gone by!
Everyone was tired today after eight days of viewing yachts and the entire day out in the water, on the water and walking. Hence, an early night in my very comfortable cabin was in order.
Day 2
After a delicious breakfast, we sailed to the deserted Island of Kyra, where we anchored in the beautiful turquoise waters. Lunch was sereved on the aft deck; afterwards, there was time to swim and play with the water toys. I relaxed in the front cockpit with a good book while feeling the warm Mediterranean sun on my skin.
Hydrus had several areas to relax, and it never felt crowded! The yacht has a front lounging area, a front cockpit and bunny pads, a cockpit in the aft, a large open-air saloon, and the flybridge, that can be enclosed if the weather is wet! There are plenty of beautiful throw cushions in each of these areas to enable to truly relax.
During the afternoon, we sailed to Agistri (meaning fishing hook in Greek), which is a small pine-clad island where crystal clear waters and beautiful beaches await. Here locals enjoy horse riding, hiking, cycling, and taking long walks in the countryside. The Island has a serene atmosphere and three villages; Megalochori, Limenaria, and Sala. I lay on the trampolines, enjoying the sun, taking pictures of the water, and catching up with a bit of social media. Once we anchored, the Captain dropped me off at the dock, and I took a leisurely hour-long stroll into town. 
This evening included a large get together on one of the Sunreef 80's, called Genny, who was travelling with us. All the chefs contributed to food, and the crews all worked together. We quickly had 67 people on board, dancing the night away on this large yacht. 
Day 3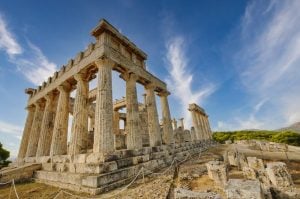 After breakfast and a quick dip in the sea, we set sail, heading towards Aegina. We enjoyed exploring here for a few hours, while some of us visited the Temple of Athena Aphaia. This ancient monument sits in the center of the Island.
Beyond its bustling port, the Island's capital, Aegina Town, has the character of a typical Greek Island, with its beautiful structures. Be sure to purchase some pistachios from here! The town is well known for the variety called Koilararti, which are rare and highly delicious! I chose shopping, eating ice cream, buying pistachios, and strolling through the fishing market for the day's activities. Along with taking pictures of all the wonderful fishing boats of all shapes and sizes.
Agia Marina, Perdika, Souvala, Kypseli, Agii, and Vagia are just a few traditional, quaint villages on the outskirts. 
Day 4
It was time for us to start heading back to Athens, completing our charter itinerary, as we had commitments for a wrap-up party that evening with all the other yachts that participated in our familiarization trip. We sailed toward our destination, making a stop for lunch, and then pulled into Marina Zeas, where we got ready to go out for a fabulous wine and cheese extravaganza, from the Cava Halari Choix Wine Concept store. Cava Halari was a fantastic place, with every gourmet wine and snack available. In the large space upstairs of the building there were beverages and hor oeuvres were set up for us to enjoy while we viewed the art show. 
Many of us enjoyed a midnight stroll after our farewell party to see the lights of the Acropolis at night.
Day 5 
After a few more laughs and a hearty breakfast with our crew, they presented us with great gift boxes of Greek delicacies from the Yacht. All guests onboard Hydrus receive the gift boxes at the end of their charter. It was time for us to head off to the airport for our flight back to North America.
We look forward to spending more yacht charter trips exploring the 1200 islands of Greece!