There are many crewed charter yachts available that can accommodate large groups in similar-sized cabins. This is an exceptional Corporate event option.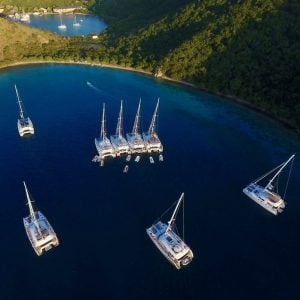 For special functions, corporate events, or just large groups of families or friends, this is a great way to team up with fellow yachts while your crews take care of your every need.
The Caribbean and Bahamas' spectacular backdrop offers a perfect opportunity to reward top-performing employees with a luxury yacht charter. Corporate charters provide the platform for colleagues to grow interpersonal relationships and encourage team bonding. 
A large number of yachts can also be booked in tandem. Tandem is the term for more than one yacht sailing together. If your corporate team or large group is too big for a single yacht, Epic Yacht Charters can book multiple yachts to travel together and enjoy the same anchorages and activities. The yachts can provide casual get-togethers during your charter. While the boats are rafted together at anchor, your chefs prepare all your exquisite meals that can be shared, as well as cocktail parties served by the captains or deck staff on the upper deck while the boats are rafted together at anchor. Get photos of your friends as they sail side by side and have beach fun together as a group. This can lead to a wonderful annual repeat venue for your large group.
Boats can raft together so that you have the opportunity to spend more time together and socialize in spacious luxury. You and your friends or colleagues can sit back and relax, enjoying each other's company while consuming everything the stunning islands have to offer. With WiFi available, you can still make that conference call or send emails and get a little work done if that's what you came for. Charters are all-inclusive, so there is little to plan. From the time you step aboard to saying farewell until the next time, Epic Yacht Charters will guide you and your group on the best way to spend your Caribbean/Bahamas paradise escape. Contact Michelle for more information.
Availability
Required for price estimate
Capacity
Required for price estimate
Location
Boat type